June 26, 2013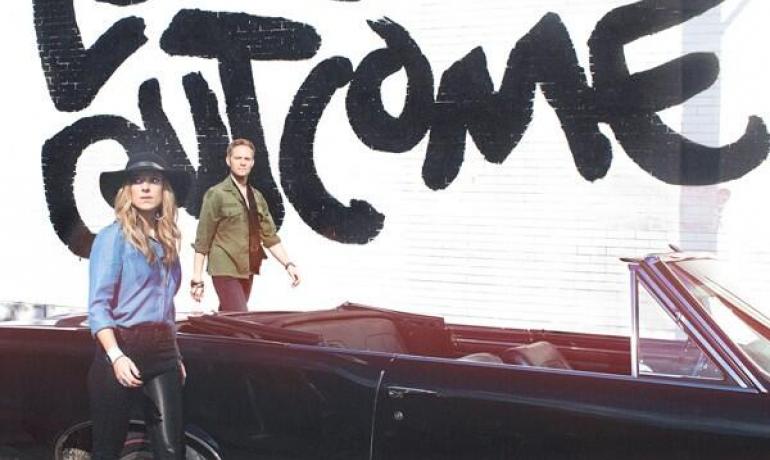 Word Entertainment's Love & The Outcome, recently included in Billboard's "Bubbling Under" feature on new and noteworthy acts, are gearing up to release their self-titled debut album on August 27. The 11-track album recalls the highs and lows of the journey vocalist Jodi King and bass player/vocalist Chris Rademaker have braved since departing their homeland of Canada, risking it all to pursue their musical dreams. That Jodi and Chris are also husband/wife makes the story that much more vivid. The album features the duo's debut single, "He Is With Us," which skyrocketed to the Top 25 on Billboard's Christian Songs chart and No. 10 on Canada's CCRC chart in a little over a month since its release. On Tuesday, Love & The Outcome launched an online campaign here by asking fans to share their own story about how He is with them by tweeting with the tag #HeIsWithUs.
Co-Produced by Seth Mosley (Newsboys), Ben Glover (for KING & COUNTRY), David Garcia (TobyMac) and Jeff Pardo (Matthew West), Love & The Outcome balances Chris' rock sensibilities with Jodi's love of melodic pop artists. In addition, the duo's influence is also revealed in the lyrics as they had a hand in writing each of the 11 tracks on the album.
"We want these songs to become the soundtrack to people's lives, and hope that the truth of these songs goes beyond the thrill of the live show to plant a seed in people's hearts: to go for the things that they might be afraid to go for and join this joyful revolution," said King. "That's the whole point. A life that requires faith is worth living, and a life on the edge is one where you live hand-in-hand and arm-in-arm with God. That's what we're living for."
For Chris and Jodi, Love & The Outcome is both a name and a literal life story. The duo sold their Winnipeg condo en route to a high-stakes musical road trip that has seen them criss-cross Canada, Liberia, the Philippines and China, winning over fans both emotionally and spiritually with their blend of effervescent pop. After signing to Word Records in 2012, they retreated to the mountains of Washington state to record their powerful debut, produced by Mosley along with Ben Glover (for KING & COUNTRY) and David Garcia (TobyMac). Spring 2013 saw the two back on the road for the "Hundred More Years Tour" supporting Francesca Battistelli and The Afters over 27 dates.