July 25, 2011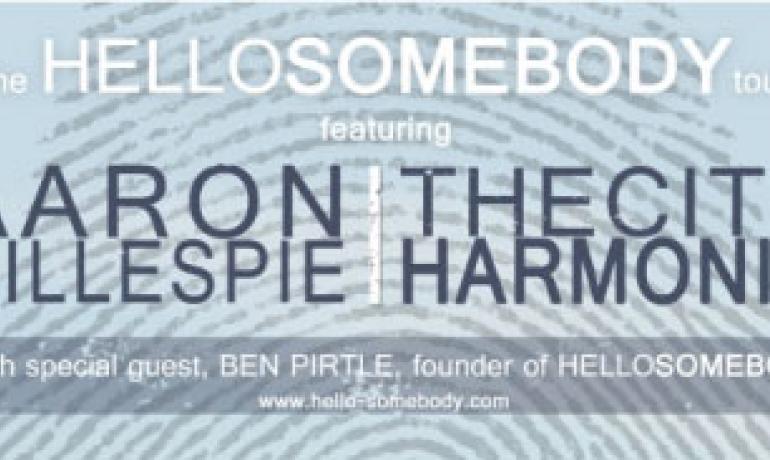 Seattle, Wa – Announcing the HELLOSOMEBODY tour featuring the next generation of worship leaders Aaron Gillespie and The City Harmonic along with special guests Jake Hamilton (Jesus Culture), AJ Cheek and HELLOSOMEBODY founder Ben Pirtle. The tour begins on September 21 and will continue through October.
"This is a different night, it isn't a concert, it isn't a popularity contest. This night is about Jesus and worshipping Him out loud and for real," shares Aaron Gillespie. "Bring everyone you know, we are being sponsored by HELLOSOMEBODY, and we are gonna be feeding needy kids through their incredible merchandise. Come hang!"
The tour's namesake and sponsor, HELLOSOMEBODY's mission will be the foundation for this evening of worship. This non-profit brand exists to impact and change the world through love, passion and creativity. Their purpose is simple: feed the hungry around the globe, which is what this tour will do – a global outreach through these creative and passionate artists.
"We want this tour to help people see their stories lining up with God's story for them and the world. Worship ought to feel like that – some unveiling of something bigger than ourselves," says The City Harmonic's frontman Elias Dummer. "If we can somehow spark in people a dream, something they just can't shake, then that will inspire them to sing like every word matters, to live like every day matters, and having tasted heaven they'll get on with helping this world feel more like home. This tour promises to be a creative night of worship, and all for a great cause."