August 23, 2012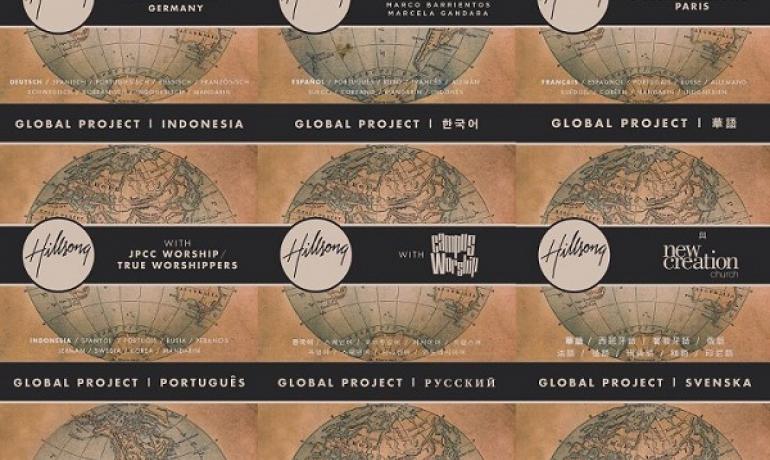 Nashville, Tenn – EMI Christian Music Group announces the release of Hillsong's The Global Project. Partnering with ministries across Asia, South America, and Europe, Australia's Hillsong Church has broken language and cultural barriers to produce The Global Project, a collection of Hillsong's most impactful songs recorded in nine languages. The nine albums will simultaneously release across the world on September 18th.
The Global Project aims to unite the body of Christ, break down denominational, cultural and geographical barriers and bring churches and ministries from different cultures together. The Global Project will be available in Spanish, Portuguese, Korean, Mandarin, Indonesian, German, French, Swedish as well as Russian.
Well-known Hillsong anthems, "Mighty to Save" and "Hosanna," as well as newer songs such as "God Is Able" from last year's release of the same name, have been played by churches across the globe, but never before have Christians of so many cultures been able to listen to the recordings in their own tongue.
"We are directed to 'go into all the world' and as a church we are committed to proclaiming Christ for the entire planet," shares Hillsong worship pastor, Reuben Morgan, about the motivation for the project. "There is something powerful about singing a song in your own language. God cares about all people in all nations and it was a privilege to work with so many great people and churches who are passionately bringing truth and hope to their countries."
The Hillsong worship team performs on each of the albums, but the local vocalists in the nine countries provide vocals in their respective languages. Worship leaders in the participating countries believe The Global Project makes a significant statement to the world, such as Sidney Mohede, worship leader at JPCC True Worshippers in Indonesia. "As part of the global Church, there is no better time than now to show that the more we are united in love, the more the world sees our Christ," Mohede said.
GRAMMY® Award-winning Spanish recording artist Pastor Marcos Witt echoed the sentiments. "Hillsong has been a force of God on the earth to bring refreshing and renewal to believers everywhere. They've reignited our passion for Christ using ingenious creativity."
The Global Project is at the heart of Hillsong Church's vision. Senior Pastor of Hillsong, Brian Houston exclaims, "We exist to champion the cause of local church."