January 07, 2013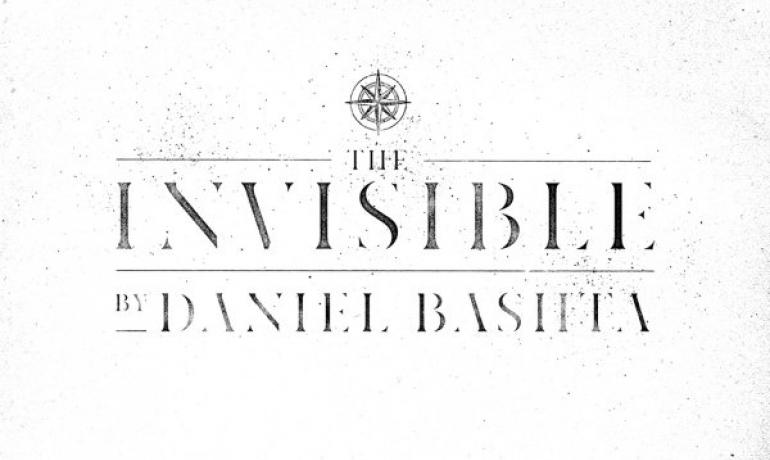 The highly anticipated sophomore album from critically acclaimed songwriter/artist/missionary Daniel Bashta, The Invisible, releases Feb. 5 from Integrity Music. The album follows Bashta's 2011 debut, The Sounds of Daniel Bashta, which sparked the worship anthem "God's Not Dead (Like A Lion)" that was also recorded by Newsboys, David Crowder Band and others, and continues to circle the globe in church services, on radio and in concert halls everywhere.
Produced by Jonny MacIntosh and J.T. Daly (Paper Route), The Invisible is musically layered with Bashta's explosive, raw vocal interpretation that isn't so much corporate worship as it is a full-tilt revelation that it's time to get real. "Just Give Me Jesus," inspired in part by Melody Green's book, No Compromise, sets the tone for the entire project.
"My whole life, I've been part of these revival meetings, seen healings, all these crazy, beautiful things happen," Bashta says. "Even in all that, I'm still searching for the real Jesus in my life. ...The Invisible is full of songs for a generation sick of singing songs. They don't really care about building mega churches. They care about revolution. They want to see their cities changed. God is looking for a generation full of conviction."
The Invisible also filters the prophetic cry of Bashta's debut album through a new primal lens. His impassioned call to wake this generation has been tempered by a season of hope and healing in his family's life and in his new role: fatherhood.
"I've been moved from this John the Baptist cry; from waking hearts of this generation to an unknown place," says Bashta. "When I became a dad, God poured out this brand new anointing over my life, gave me this father's heart, and for me that's massive, epic.... The church needs more fathers, more pastors... There's so much hurt happening all around us and not enough nurturing fathers among us to reach out."
Married five years, Daniel and his wife, Taylor, like millions of young couples, had experienced infertility and were checking into their medical and adoption options. Creating their family profile and turning it in to Bethany Christian Services, within a few weeks they received a call from a birth mother that had chosen the Bashtas to be her baby's family.
Months later, in the hospital on the day of their son, Phoenix's birth, the Bashtas would begin to get a glimpse of the care with which God had been writing their story. "We were sitting there with the birth mother, and my sisters brought in a little stuffed lion. I told Phoenix's birth mom, 'We don't do teddy bears in our family, we do lions.' And then she told us a part of her story we had not heard. She'd been given an ultimatum: either have an abortion or get out of the house. So she moved to Atlanta, heard about Bethany Christian Agency on MTV and had the courage to walk in and check it out. Around that same time, a friend took her to a church called Passion City, she said, and some guy on stage (Chris Tomlin) started singing some song about a lion and a roar. She remembered it clearly because during that song, she felt a presence come over her. 'I never knew you could feel God, like I felt God in that moment,' she said. She sat down and started journaling the lyrics to the song, 'Like A Lion.'
"We all started crying in the hospital room," Daniel says. "I looked at her and said, 'Well actually, I wrote that song.' Then she jumped up and started crying and saying what an impact the words and presence of this song had on her. To know that my son has such a calling in this life, even before he was born and that his dad's song was being sung over him before he even knew who his father was... I thought I knew what God was capable of, but we experienced His faithfulness in such a miraculous way."
And that miracle led straight to another. Within a few months, the Bashtas were pregnant, later giving birth to a daughter, Bravery Annette, now 12 months.
This story of healing for the Bashtas breaks through on The Invisible in the song "Let Hope In," which expresses Daniel's literal, spiritual devastation of infertility and the miracles that sprang out of this desert. Song after song, the album gives voice to the faith of a generation willing to open the door for the miraculous, redemptive work of God to infiltrate everything.
In advance of the album release, all of the songs from The Invisible will be streamed at http://danielbashtainvisible.com, where Bashta will also reveal song story video devotionals, chord charts and a pre-order option.
An exclusive The Invisible iTunes® LP will also be available and features three song story videos, a spoken word video trailer (featuring Amena Brown), lyric videos for "Let Hope In" and "Praise The Invisible," The Invisible Journey video trailer, handwritten lyrics (straight out of Daniel's notebooks), downloadable chord charts and instrumental versions of all the songs.
A missionary kid who grew up immersed in ministry all around the globe, speaking life and hope into a dark world has been Daniel Bashta's life-long passion. Educated at the Worship Institute of London and heavily influenced by the ministry of Soul Survivor, his path of ministry reads like an intertwining stream. Currently serving as worship pastor at RiverStone Church, just outside of Atlanta, GA, he launched GoMotion (www.gomotionworldwide.com) in 2009, a non-profit ministry that marries music, media and missions for global impact. And in 2013, he will launch The Roar, a missions training school aimed at the "rapid deployment of mission pioneers."