March 21, 2012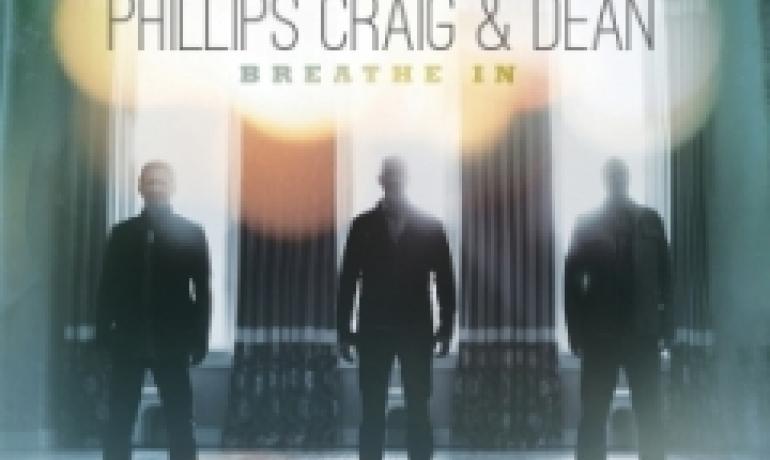 Breathe In Receives Media Acclaim Upon Release
Nashville, Tenn., March 21, 2012: On the heels of a street week filled with overwhelmingly positive reviews, several sold-out album release concerts and their single "When The Stars Burn Down" poised to crown radio charts, it's good to be Phillips, Craig & Dean! Their latest recording Breathe In (Fair Trade Services) bowed at retail last Tuesday, March 13.
This, their 12th studio album, entered the Billboard Christian Soundscan charts at No. 4, and in digital sales, the project peaked at No. 4 on the iTunes® Christian Albums chart. "When The Stars Burn Down" continues to burn up the charts at radio, seizing the No. 2 spot on the Billboard Christian Soft AC/INSPO radio chart, the No. 7 position on the Billboard Christian Audience Chart and No. 12 on the AC chart. Phillips, Craig & Dean also embarked on a street-week promo tour with hugely popular shows in Dallas, Minneapolis, St. Louis and Winston-Salem, N.C.
The Breathe In album release promotional concerts garnered sell-out crowds on Mon., March 12 at Gateway Church in Dallas, Tues., March 13 in Minneapolis at Mall of America, Wed., March 14 in Winston-Salem, and Thurs., March 15 in St. Louis at Calvary Church. The shows were massively successful in all markets, with the St. Louis show having 1800 tickets snatched in just a few minutes for the early show. Because of demand, an additional show was added for the mid-afternoon for an additional 1000 listeners. Over 3500 attended the street-week kickoff show in Dallas, and 4000 fans crowded into the rotunda at Minneapolis' Mall of America to see the band perform.
Produced by Bernie Herms and Nathan Nockels, the 10-track album features songs co-written by each band member including "Tell Your Heart To Beat Again," "All Is Well" and "I Choose To Believe." Breathe In speaks life into a world so full of frustration and struggle. Twenty one years into their storied career, Phillips Craig & Dean offer another ground-breaking collection of songs poised to minister to the hurting, lead believers in powerful praise, and point the broken to Christ.
Reviews of Breathe In are matching the eager reception at radio and among fans. Below is just a sample of what the critics are saying…
"With two decades under their belts and well over 20 chart-topping singles, Phillips, Craig & Dean doesn"t show signs of slowing down anytime soon. The trio's twelfth studio disc follows in the footsteps of its career revival cut "Revelation Song," promising plenty of string-soaked worship and inspiring contemporary pop reflections."
– Gospel Music Channel
"On Breathe In, Randy Phillips, Shawn Craig, and Dan Dean illustrate why they've enjoyed longevity: They consistently produce quality music and well-written songs while remaining musically relevant. Breathe In is a glowing showcase for time-tested musical trio Phillips, Craig & Dean. The three solidly demonstrate musical relevance, songwriting skills, and vocals that sound better than ever. The group is clearly still having fun after all these years!"
– New Release Tuesday
"…with vertical songwriting as well as modern arrangements…Songs like the powerful "Great, Great God" carry a congregational chorus, while the modern hymn "All Is Well" is suited for churches or personal worship alike. As their rendition of 2010 Song of the Year "Revelation Song" indicated, PC&D have only gotten stronger with time."
– CCM
"The suitably rousing opener, "Great and Glorious," the inspirational singalong of lead single "When the Stars Burn Down," and the hymnal-like rock of "Great I Am" burst out of the block with an emphatic production from Bernie Herms (Casting Crowns) and regular collaborator Nathan Nockels…"
– All Music Guide
"Their latest album aims to bridge the two sides of their musical worlds, reining in the group's more fist-pumping ways while adding some spice to their quieter ballads."
– Christianity Today