September 26, 2012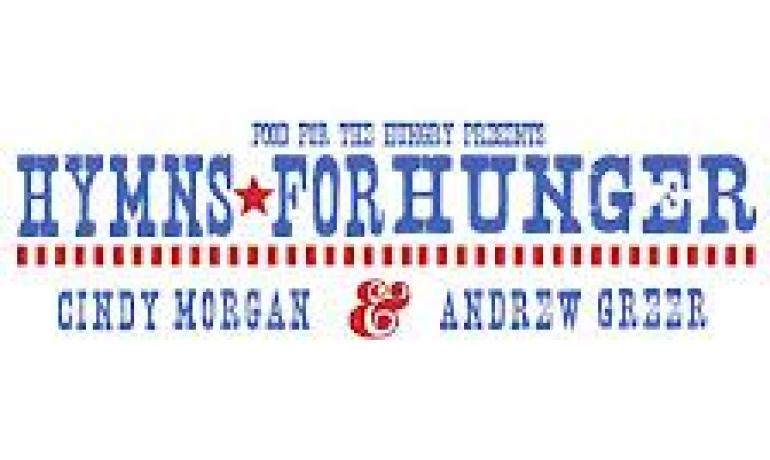 NASHVILLE, Tenn.— Multi-Dove Award-winning singer/songwriter Cindy Morgan and critically-praised singer/songwriter Andrew Greer have joined forces this fall for the "Hymns for Hunger" Tour. Presented by Food for the Hungry, Morgan and Greer will showcase selections from their respective acclaimed hymns recordings, while helping raise awareness and resources for local and international hunger relief organizations at tour stops around the country.
The "Hymns for Hunger" Tour kicked-off September 16 in Boise, Idaho, and is slated to visit Houston; Nashville, Tennessee; Lexington, Kentucky; Knoxville, Tennessee; and Columbia, South Carolina, among other cities.
"'Hymns for Hunger' is more than a concert of hymns," says Greer. "It is a night of music purposed to meet the needs of our neighbors across the world with audiences' help. We partner each night with a relief organization in the local community to raise awareness, funds and tangible goods—whether filling a food pantry, raising money to repair a homeless shelter or literally feeding the hungry. Internationally, Cindy and I are partnering with Food for the Hungry to help complete their community development projects in Nicaragua, eliminating poverty and providing spiritual hope through child sponsorship."
"Andrew and I share a love for the music and the history of hymns," says Morgan. "To look out into the faces of people from ages 6 to 86, meeting on an equal plane to lean back in a creaky pew and sing these songs for awhile, has been one of the most rewarding things I have ever been a part of. The only thing that makes it better is the cause behind it. To reach out beyond ourselves to the good that can be done by joining hands with fellow sojourners, reminds me of the greater purpose that binds us all together."
One of Christian music's most influential singer/songwriters, Cindy Morgan has garnered 12 GMA Dove Awards, including the prestigious Songwriter of the Year trophy. With 21 #1 hits to her credit, Morgan has penned songs for such artists as India Arie, Point of Grace, Mandisa and Francesca Battistelli, among others. Part of the lauded indie/pop duo St. Lola in the Fields, with longtime writing partner Jeremy Bose, the collaborators' songs have been featured on such programs as "One Tree Hill," "Drop Dead Diva," and "Pretty Little Liars." Morgan's latest solo effort, 2011's critically-acclaimed Hymns & Spirituals: Some Glad Morning, features Americana/folk-inspired arrangements of such beloved selections as "I'll Fly Away," "It Is Well" and "Leaning On The Everlasting Arms."
Andrew Greer is an accomplished singer/songwriter and respected music journalist. His latest recording, Angel Band: The Hymn Sessions, released earlier this year and reached the #2 position on Amazon.com's Contemporary Folk Chart. Angel Band showcases collaborations with some of the top names in bluegrass, Gospel and Christian music, including The McCrary Sisters, Ron Block of Alison Krauss & Union Station, Sonya Isaacs, and Ginny Owens, among others. Greer's critically-acclaimed 2009 debut, Open Book, is a collection of introspective original selections he penned following a season of spiritual reawakening. As a journalist, Greer's stories have appeared in Christianity Today, CCM, and ParentLife, among other notable publications.
Source:
Turning Point Media Relations