February 07, 2012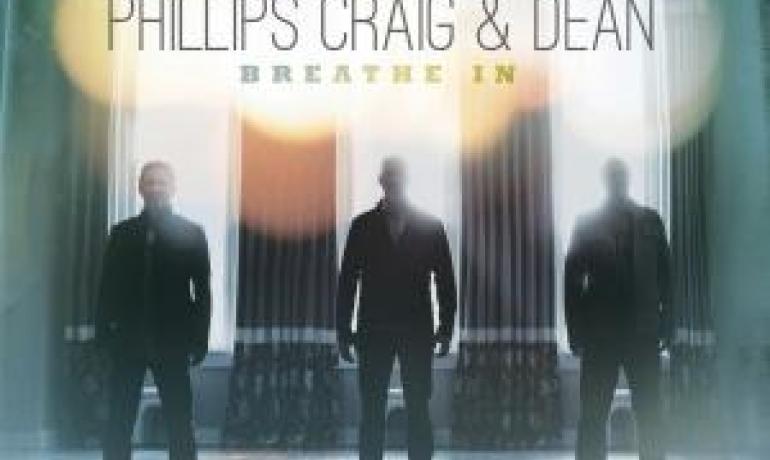 NASHVILLE, TN - After more than 20 years and 20 No. 1 singles together, Phillips, Craig & Dean will debut their 12th studio project, Breathe In, on March 13 via Fair Trade Services. This release follows the stellar success of their Dove Award-winning album Fearless. That project's breakout single, "Revelation Song," was the longest running single of 2009, spending a whopping 17 weeks at No. 1 on the Billboard Christian charts and nearly a year in the Top 10. Produced by Bernie Herms (Casting Crowns, Natalie Grant) and the group's longtime collaborator Nathan Nockels (Chris Tomlin, Laura Story), Breathe In keeps PC&D's signature harmonies in place while continuing to push the boundaries of praise and worship music into more eclectic, progressive musical territory.
Breathe In speaks life into a world so full of frustration and struggle. "Daily life can be so deflating," says Randy Phillips. "You get to where it's metal on metal and you feel oxygen-depleted. This is where you come into the presence of God, and you just kneel before Him, you say, 'God, I can't do this anymore, I'm deflated.' And you begin to breathe in those words of Jesus Christ: 'Come to me, all you who are weary and heavy laden, and I will give you rest.' Breathe in that. It inflates you and helps you to rise above the things that life brings to all of us."
The album's extraordinary lead single, "When the Stars Burn Down," was written by Jennie Lee Riddle ("Revelation Song") and Jonathan Lee and transports listeners beyond the temporal to a place of unfettered worship. The song has already soared into the Top 5 on the Inspo chart and the Top 20 on the AC chart after only four weeks at radio.
Since Phillips Craig & Dean are senior pastors at churches in Texas and Missouri in addition to their roles as artists, it's no surprise that these songs minster so effectively. As Dan Dean notes, "I think all the songs we write are part of the experiences that we go through day to day with our church people. I would say 90 percent of the things we write are born out of experiences going through life as pastors."