March 12, 2014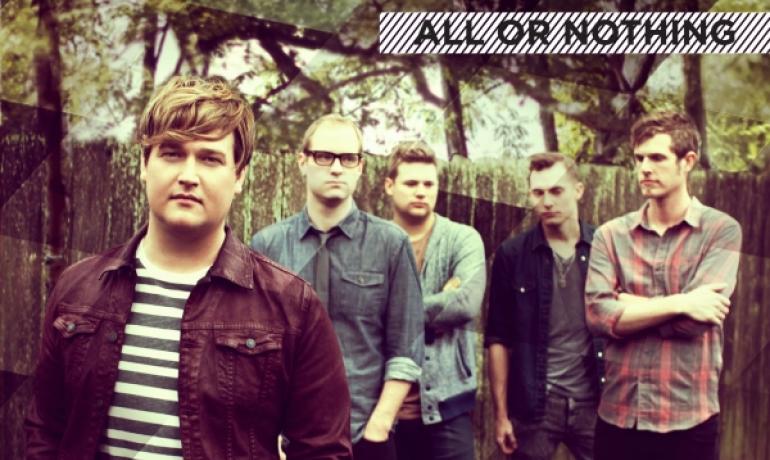 Acclaimed pop band MIKESCHAIR will release its highly-anticipated third studio project, All or Nothing, April 1. The album will be available exclusively at Family Christian.
"I've always been a fan of what MIKESCHAIR has done from a music and ministry standpoint. With the release of All or Nothing, they challenge us to be fully engaged in our walk of faith," says Family Christian Senior Music Buyer, Dan Hubka. "I am thrilled that Family Christian can come alongside them as we go 'all in' together."
Since its 2009 major-label debut, MIKESCHAIR has become a core artist at AC and CHR radio with hits like "Let The Waters Rise," "Keep Changing The World," "Someone Worth Dying For" and "All For You." All or Nothing is the band's first studio project in three years and builds on the trademark pop sensibilities MIKESCHAIR has maintained since the beginning, but also introduces more organic instrumentation for a fresh sound. Fans have already gotten a preview of what they can expect from the full-length album through popular single "All I Can Do (Thank You)," which released last year, and current radio single "People Like Me," already a Top 10 hit.
Produced by Matt Bronlewee (Plumb, Jars of Clay), All or Nothing is a clarion call for believers unsatisfied with lukewarm faith to completely surrender every part of their lives to the cause of Christ. The anthemic title track was the first song lead singer Mike Grayson wrote for the album, and it immediately became a creative foundation for the record.
"Throughout the span of the whole project, the goal is to inspire people to be sold out, to be on fire for God, to choose the 'all' side of the phrase 'all or nothing,'" Grayson shares. "It's the first time where I actually wrote a song and then followed a theme throughout the whole process of writing the record… I feel like this is a season of challenging our fans to really take that step with us and say, 'Hey! This is it! I've made a choice, and I want to see it through.'"
MIKESCHAIR will join Aaron Shust, Jonny Diaz and Lauren Daigle on "The Morning Rises Tour" in support of the band's new project. The tour will visit 20-plus cities throughout the spring, beginning March 14. Moreover, this summer, the band will perform at a variety of festivals across the country. A full list of tour dates can be found at www.MIKESCHAIR.com/tour.