August 21, 2014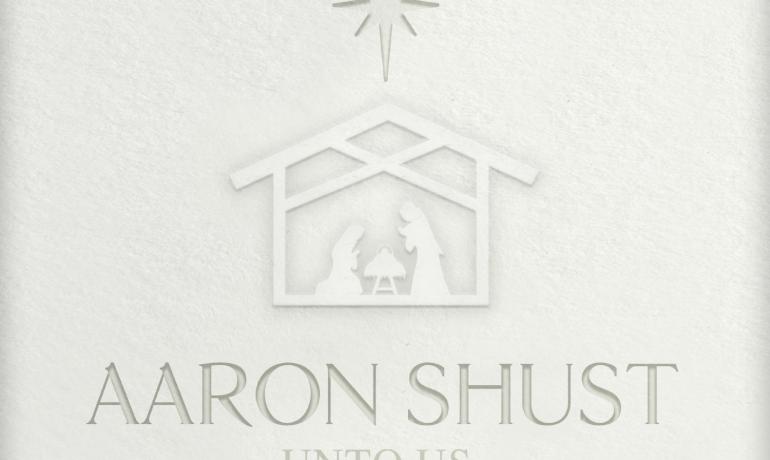 Nashville, TN  ----- Dove Award-winning artist, Aaron Shust, will release his first Christmas project, Unto Us, October 14, 2014. Produced by David Hamilton (Grammy Awards, Michael W. Smith, Amy Grant), Unto Us delivers ten new songs written by Shust, each containing a cinematic quality highlighted by ancient yet modern sounds. In order to create the orchestral backdrop for Unto Us, Shust traveled to the Czech Republic last February to record the Prague Symphony Orchestra. The orchestra sight-read music on eight of the new songs, leading to a spectacular sound for the record. Shust has wanted to record a Christmas project for a long time and he knew the sound he wanted and how to achieve it.
"I've had my entire life to write this Christmas record," Shust explains. "Every year in November and December, I would sit down in front of the piano, open up a hymnal and read some words that might inspire. I wanted every second of every track to feel like Christmas and to give people something familiar, yet also to gift them with something else, a new experience. We're not just celebrating 'He was born and He was God.' We're celebrating the fact that God is coming on a rescue mission and that's exciting!"
The listener will realize that this album is something special as soon as Unto Us begins with the majestic overture "Star Of Wonder" that heralds the arrival of the wise men, and features a bouzouki, a Greek guitar-like instrument.The title track delivers the excitement of Christ's birth, with the following track, "Advent Carol," being created by Shust from a very old hymnal. The ballad, "Sanctuary," features the Nashville Boys Choir and Shust added an instrumental number with "Keep Silent." Shust views the album as being presented in three categories, proclamation (tracks 1-5), adoration (tracks 6-8) and celebration (tracks 9 and 10), in order to present the emotions and life-changing birth of our Savior.
Shust will launch the Morning Rises Fall Tour next month with dates running through mid-October. The tour features Mikeschair, labelmate Lauren Daigle and Nathan Tasker, and is sponsored by Compassion International. For more information about Shust and his holiday project please visit online at www.aaronshust.com, www.facebook.com/aaronshust and www.twitter.com/@aaronshust.