February 28, 2013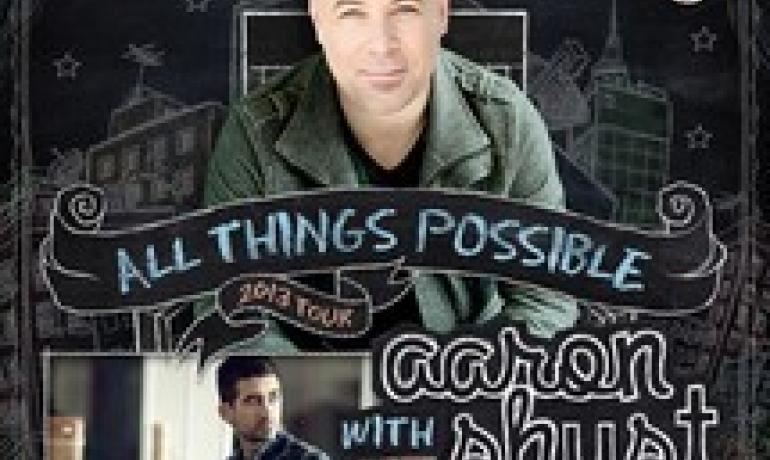 Nashville, TN - Dove Award-winning artist, Aaron Shust, will join platinum selling singer/songwriter, Mark Schultz, on his All Things Possible 2013 Tour that launches March 15, 2013 in Georgia and concludes May 5th in Charlotte, NC. The 20-city tour, presented by Compassion International, also features the Dove-nominated artist Jonny Diaz. Ticket buyers will have the option to purchase a special "VIP Experience" ticket, which includes early entry and premium concert seating, along with a pre-show Q&A session with Schultz, Shust and Diaz. For the most up-to-date concert and ticket information please visit www.markschultzmusic.com.
"My bandmates and I are dually excited about touring this Spring with Mark Schultz and Jonny Diaz, as well as the opportunity to share about the Kingdom work of Compassion International," says Shust. "We look forward to spending an evening with people in these select cities, worshiping our God together and being challenged to see Him in ways we might not have considered before."
Shust will treat fans on the tour to songs from his current album, This Is What We Believe, which includes one of the biggest songs of his career, My Hope Is In You. The single stayed at the top of the AC Monitor chart for 14 weeks during 2011/2012, and was listed at #8 on Billboard magazine's year-end Christian Songs Artist category and #9 for Christian AC Songs Artist. Shust continued to have major impact on the charts in 2012 with his single, Risen Today, reaching #17 on the AC Indicator chart. His recent song, We Are Free, peaked at #21 on the AC Monitored chart and #25 on the National Audience chart. Shust is currently in the studio with producer Ed Cash recording a new project for Centricity Music that is scheduled to release July 16, 2013. For updates about Aaron and his recording sessions please visit his website at www.aaronshust.com.