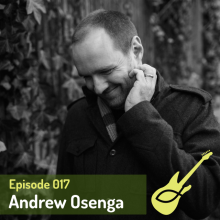 Today's conversation is a bit surreal for me. You see, when I was considering starting this podcast I did a lot of research by listening to a TON of podcasts. I didn't want to do something that was already being done. And I wanted to see what a quality podcast should sound like. As you might imagine, I listened to a lot of… shall we say… unimpressive productions. But then I found The Pivot hosted by Andrew Osenga. Now here was a podcast that not only had high production values but also had a host with a tender, caring heart. I think I listened to all 70 of the available episodes at the time before I actually started my own adventure as a podcast host. So, the fact that you are listening to this podcast is thanks in part to Andrew Osenga's great work.
Andrew Osenga: Website, Facebook, Instagram, and Twitter.
And of course on our page: Christian Music Archive.
Christian Music Archive Links: Website, Patreon, Facebook, Instagram, Twitter