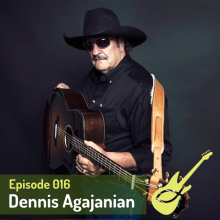 My conversation today is with Dennis Agajanian. I first met Dennis when I was in college and he performed at a youth camp where I was on staff. I remember him as a larger than life, charismatic performer who played a mean guitar. In the years since then, I've seen Dennis on stage with Billy Graham, at Harvest Crusades, and even saw him on the popular 80's ABC television show That's Incredible! But talking with Dennis you are quick to learn that he has a passion for sharing the Gospel. Even now in his seventies, Dennis will tell anyone who will listen about the love and salvation offered by Jesus.
Dennis Agajanian: Website, Facebook, Instagram, Twitter & Guitar With Dennis. Here is a link to Dennis' stunt on That's Incredible! on YouTube.
And of course on our page: Christian Music Archive.
Christian Music Archive Links: Website, Patreon, Facebook, Instagram, Twitter