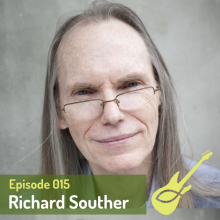 In today's podcast, I talk with Richard Souther. Richard was an in-demand studio and touring musician who played with Barry McGuire, 2nd Chapter of Acts, and Phil Keaggy, just to name a few But early in his career, Richard experienced a significant medical event that for all intents should have spelled the end of his illustrious career. But thanks to some friends around him, and a new technology called the synthesizer, Richard was able to resume his career and go on to be a prolific creator of contemplative music.
Richard Souther: Website, Facebook.
You should check out Richard's newest album, Waiting in the Wings on Amazon, Apple Music, Spotify, or on his website.
 And of course on our page: Christian Music Archive.
Christian Music Archive Links: Website, Patreon, Facebook, Instagram, Twitter
Music: "For the Love of His Buddy" from the album Waiting in the Wings. © 2020 by Richard Souther. Used by Permission.