May 01, 2013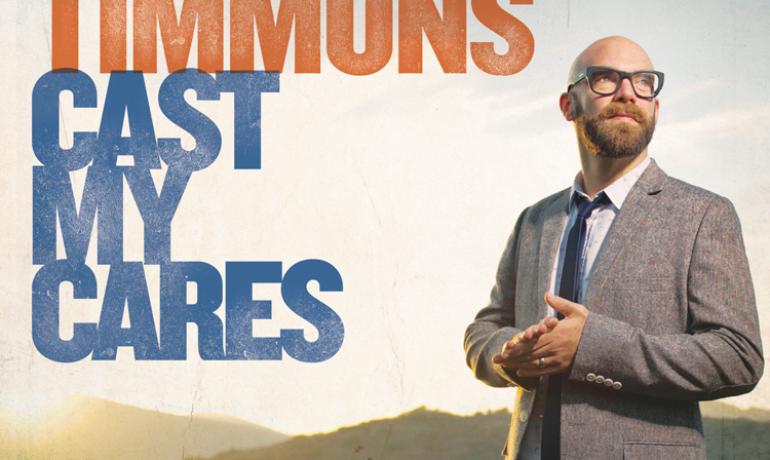 NASHVILLE, Tenn. — This week, Reunion Records announces the signing of California-based worship leader, songwriter and blogger Tim Timmons to its roster of award-winning artists. Timmons previously served as a worship leader for 15 years at Mariners Church in Irvine, Calif., while also performing at conferences and churches across the country. Living with cancer for the last 12 years, the 36 year-old, happily-married father of four brings a unique perspective to his music with transparent lyrics and a voice that is both earnest and compelling. His debut album titled Cast My Cares releases June 4.
Timmons states, "I don't care about being the next Christian rock star, I write songs that are simply prayers that I need to hear. But I do care about influencing Christians to lean into Jesus --that's the revolution--and it's the only reason why I'm doing this. I think I've been commissioned to be a missionary to Christians. We do American Christianity so well, as we do church week after week. But do we know how to be the church, and enact the principles of Jesus daily?"
Produced by Paul Mabury, and with Timmons featured as a writer on all 11 tracks, Cast My Cares is filled with tender ballads and powerful worship anthems that stimulate the intellect and tug at the heartstrings. The pop/rock album carries a message throughout that looks at what it means to not only believe in Jesus, but to change the world by truly following Him.
With support building rapidly at Christian radio stations nationwide, Timmons' lead single "Starts With Me" is a call to action that boasts a bold lyric about revival. He explains, "What if we didn't pray for a revival anymore? What if we just knew Jesus and let him lead? 'Starts With Me' says revival starts with me on my knees, just me and Jesus."
"Starts With Me" is currently playing in 18 markets including the KLOVE network, FISH LA, Houston's KSBJ and KTIS in Minneapolis.
Rodney Miller, Music Director at The Fish Los Angeles states, "Tim's got everything we look for in a "new" artist with his 15 years as a worship leader, song lyrics that talk about his real life journey with Christ and a heart to challenge your listeners to be all that God has called them to be. Don't cheat your listeners out of the opportunity to join a musical movement and revolution for Jesus through Tim's amazing music."
Timmons' personal battle with an incurable cancer, which began with a diagnosis at the age of 25, inspires his lyrics on several songs, including the debut's title track. "Cast My Cares" is a potent ballad that reminds us how much God loves us and is always there for us in times of need.
"Cancer sucks," Timmons says bluntly. "So, I know it sounds crazy, but I wouldn't trade it for anything. Yes, I'm ready to be healed and I'm asking Jesus for that daily... I actually live as though I will be healed at some point, but in all of the craziness of cancer there is a gift. The gift through an incurable cancer, or any other sorrow we face, is perspective. And perspective is the gift that keeps on giving."
With a passion for music that first started with playing drums at age seven, Timmons picked up the guitar at 11, the same age he wrote his first song. Today, his passion isn't for typical music industry success, but instead to invite people into a conversation about Jesus.
One step Timmons takes to break the routine of worship services comes as he introduces audiences to the idea of inductive worship. With a simple, but distinct exercise, he asks listeners to stop and make mental checklists of three things they are both grateful for, and worry about, before joining in worship to God.
Timmons notes, "I believe worship is responding to all that God is, with all that we are. And if we are truly bringing all of who we are before God, it must include our gratefulness, and our sadness, brokenness and suffering. Otherwise, it wouldn't be honest. By casting it all on Jesus as we worship Him, we can own our response to Him."
Timmons concludes, "Instead of me just putting out more "cool" Christian music, I want to draw people into the movement of Jesus. There's an awakening, a revolution that I want to spend my one and only life committed to."