May 29, 2014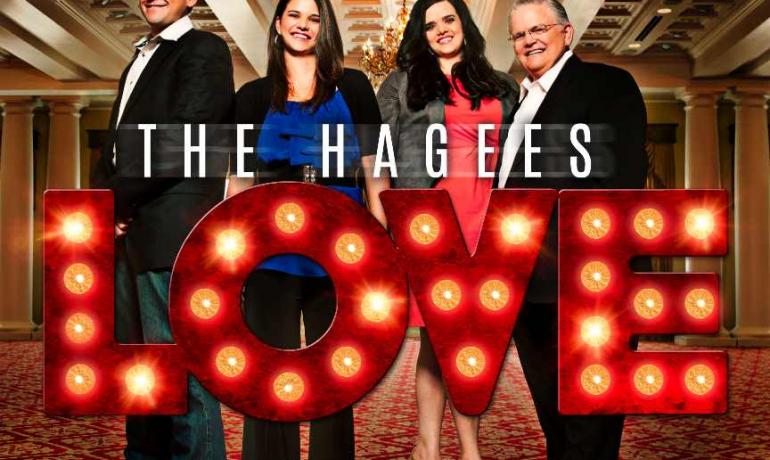 NASHVILLE, Tenn.— Love, the latest studio recording from one of Gospel music's most beloved families, The Hagees, bows June 10 from Difference Media (Capitol Christian Distribution). Produced by multi-Dove Award winner Aaron Crabb (Aaron & Amanda Crabb, Canton Junction), the 12-song set features original selections as well as new arrangements of timeless favorites.
Highlights of Love include the classic, "Precious Lord, Take My Hand," featuring Pastor John Hagee, group patriarch and world-renowned evangelist; the contemporary country "When Love Comes To Town" (feat. Matthew Hagee); "That's What Love Looks Like" (feat. Sandy Parker); the powerful affirmation of "I'll Never Leave You" (feat. Tina Ketterling); and the Dottie Rambo-penned "I've Never Been This Homesick Before," also featuring Pastor John Hagee and showcasing guest vocals from Dove Award-winning quartet Canton Junction.
The Hagees' Sandy Parker says of the album's overarching theme, "The song 'That's What Love Looks Like' is a poignant tune about different types of love: the love of a spouse, the love of a mother, the love of a Savior. Ultimately, love is what we feel for each other as a family, our music is a labor of love, and we sing about a Savior who loves us more than we could ask, hope or imagine. Love encapsulates all of that, and I hope the project communicates the same to its listeners. To know that someone may experience the love of God as a result of listening to our music is a humbling thing that feeds my soul."
"It is always the most fun to sing with my family," she adds. "No matter how old we get or how many kids we have, at the end of the day when we sing together, everything else goes away and it's just my dad, my siblings and me singing about Jesus."
Comprised of Pastor John Hagee, his son Pastor Matthew Hagee, and daughters Sandy Parker and Tina Ketterling, The Hagees' storied Gospel career has spanned more than two decades, boasting multiple acclaimed recordings and international appearances.
A world-renowned evangelist and best-selling author, Pastor John Hagee is founder and senior pastor of Cornerstone Church in San Antonio, Texas. A non-denominational evangelical church with more than 20,000 active members, Cornerstone is home to John Hagee Ministries, which telecasts Pastor Hagee's radio and television teachings throughout America and to more than 190 countries around the globe. The ministry also operates GETV, a 24/7 online television and video on-demand broadcast of sermons and original programming (getv.org).
Difference Media, a division of Cornerstone Church, features some of the leading names in Gospel music, including Aaron & Amanda Crabb, Canton Junction, Matthew Hagee, Tim Duncan, The Cornerstone Sanctuary Choir, John Hagee and The Hagees.