May 01, 2012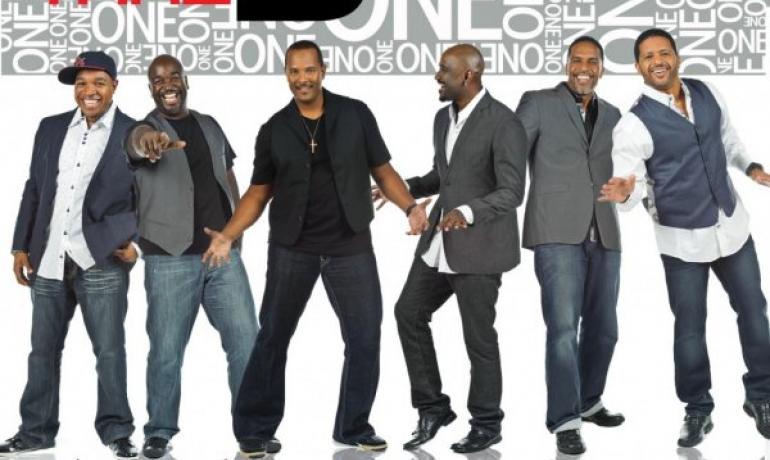 Huntsville, AL — With the popularity of televised vocal competitions like the explosive a cappella show The Sing Off and the mania over singing driven comedy dramas like Glee, Take 6 is the original torchbearer for the first instrument. The ten-time Grammy and ten-time Dove winners, Take 6, (Claude McKnight, Mark Kibble, Joel Kibble, Dave Thomas, Alvin Chea and Khristian Dentley) celebrate their 25th Anniversary this year and have a lot to be grateful for. The distinguished Gospel/Jazz vocal group, heralded by Quincy Jones as the "baddest vocal cats on the planet!' are the quintessential acapella group and model for what vocal genius is.
Through the years they have won praise from such luminaries as Ray Charles, Stevie Wonder, Brian Wilson, Ella Fitzgerald and Whitney Houston. Any singer who aspires for vocal excellence cannot overlook the contributions these men have made to music. The multi-platinum selling sextet says of their longevity, "The glue for Take 6 is that we consider this a Ministry. We are God's group! We are also family in the sense that we care deeply about each other, and that helps keep us together. We have times when it gets tough, but we pull together because of the love we have for one another."
One is Take 6's first project without Cedric Dent, who retired from the group last year. "Cedric had taken a position with MTSU (Middle Tennessee State University in Murfreesboro, TN) which didn't allow him to go out on the road during the school year and kind of limited him only to the weekends and that's if it worked for the schedule," says Kibble. "So we decided it was best to find a person to step in and cover him when he couldn't be there. We actually had a pool of three people we used over the years. Khristian Dentley was one of those people called on to step in. He did it beautifully and had a lot of energy. In standing in for Cedric, we were able to learn his personality and he was able to learn the music. After seven years, Cedric decided to go full time into academia and when he did, Khristian was already primed to step in behind him."
Dentley brings a multitude of skills to the mix. He programmed, co-wrote or co-arranged some of the songs such as "One," the soulful, block-party styled title song. "Khristian was the visionary behind the music video for that song," says McKnight. It was shot at a private home outside of Los Angeles with about 40 Take 6 friends and family members. Stevie Wonder; Claude McKnight's little brother, crooner Brian McKnight; Lalah Hathaway, Lil Fizz from B2K and former pro football player Greg Gunther all make appearances in the video. "The video was all about getting together at a family styled barbecue and hanging out and just having fun," says Claude McKnight. "We invited some of our friends, we had some cameos. It was just a lot of fun."
The group also had fun recording One and considers it a return to their spiritual heritage. "We're pretty excited because this album is one of our first completely gospel-influenced albums," says McKnight. "It kind of takes us back to when we first started out. The touring that we're planning on doing will include a lot of churches and gospel-flavored venues. Interestingly enough, we've always toured Internationally because were basically a jazz group and we still have those elements on this album but lyrically it's a lot more gospel based. We really wanted to go back to our roots and to be a part of that and uplift people from that standpoint."
While they have dabbled with straight jazz and even adult R&B rhythms over the last decade, Take 6 dusts off Korean War-era gospel songs and injects them with a modern flair while maintaining their traditional quartet style of singing. Handclaps and a little percussion enliven The Selah Singers' 1952 tune, "Down Here I've Done My Best".
The hymn "Glorious Day" and the Jackie Verdell & Brother Joe May's 1962 cut, "You're Gonna Need Him," both get Pentecostal workouts but with a sophisticated polish. The ballads "Alleluia" and "What A Friend We Have In Jesus" are given tender arrangements that show off the group's layered harmonies. On "Noah," their voices simulate instruments to create the signature Take 6 sound. The mid-tempo tracks "In My Heart" and "Farther Along" boast minimal instrumentation and a lot of funky swagger.
Rounding out the set is the wistful tune, "Can't Imagine Love Without You," that includes a harmonica solo and lead vocals by Stevie Wonder. Take 6 first performed the song with Wonder on a BET Honors television special in 2010. "We just liked the way the song flowed and we liked how it felt," says Kibble. "We needed one more song for the CD and somebody made the suggestion that we should sing that song."
Take 6 has come a long way from their days at Huntsville, Alabama's Oakwood College where McKnight formed the group as The Gentleman's Estates Quartet in 1980. The group eventually became known as Alliance but when they signed to Reprise Records in 1987 they found that there was another group with the same name, so they became Take 6. Their self-titled debut CD won over jazz and pop critics and they've never slowed down.
A part of what has allowed the group to stay together as what has allowed the group to stay together as One is the group's willingness to let members do side projects. "It adds to the brand," Joey Kibble says. "You have six individuals that are interested in six different combinations of activities." Kibble is a motivational speaker and Alvin Chea does Voiceover & Session-singing on dozens of TV and Feature films as well as commercials. Two of the members have solo projects in the works, others produce outside acts and McKnight is working on a documentary. "It adds even more credibility to the group as a whole," Kibble adds. "That based on each individual further developing what they were called to do, then when you look at those entities making up this entire unit which is Take 6, the group is stronger because the individuals continue with their contributions and development of their own gifts."
So, what's next for Take 6 as a unit? "The next project we're going to work on I believe is going to be an orchestral project," says McKnight. "We've performed with orchestras but we've never done a fully orchestrated album so that's what we're working on to try and get the logistics for that. One of the key things we're really looking at is almost reintroducing, in a way, Take 6 to our domestic audience. We've done so much International touring that I think there are core fans of ours who may, in fact, not know that we're still around so that will be kind of a cool thing to be like, `Hey, we're here! Check us out.'"