March 27, 2013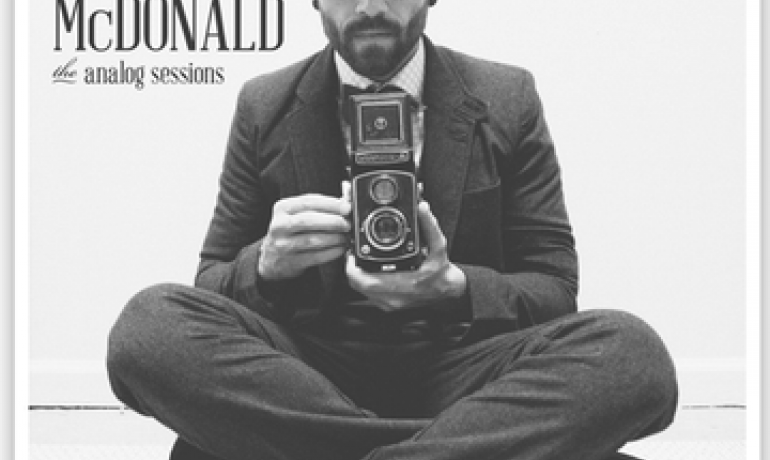 Franklin, Tenn - The Analog Sessions has finally arrived! This week is the anticipated release of Shawn McDonald's special song collection - nine re-recorded raw analog-recorded live-to-tape fan favorites. With the addition of two brand new songs, The Analog Sessions is a great way to celebrate the ten-year mark of McDonald's musical career.
Great reviews and fan feedback have been pouring in about The Analog Sessions, showing that this singer/songwriter/storyteller has quite the following from media and fans alike. With fans sharing that the album is "creative and so good!" and "amazing and a must have!" along with coverage with Worship Leader and much more, here are a few more media highlights:
"McDonald has always been unflinchingly honest and straightforward - an approach that works particularly well with the pared-back performance and production aesthetic of his latest release." - Jesusfreakhideout.com
"...With new imaginings of the tracks, it's a lot of fun to hear the creative ways he's made them new. The whole analog feel is truly unique in our digital age, and it's a welcomed treat hearing the warmth and glow that comes off a song played in one take....It's just the listener alone with Shawn McDonald's powerful words, and it reawakens a love of music, but also points to a great love of God in the process." - HollywoodJesus.com
"It doesn't get more raw than this, it doesn't get any more original than this. The Analog Sessions is indeed an album that defies the norm of the Contemporary Christian music. The sound on this old-school, analog recording is quite different from anything else McDonald has recorded thus far, not to mention one of the most determined." - TheUndergroundsite.com
"From beginning to end, this is one you'll want to enjoy again and again." - Christian Music Review
"This is the Shawn McDonald we have come to know and love..Sit back, get comfortable, and take in a classic McDonald album." - posted on Amazon
About the recording process for The Analog Sessions:
It was proposed by Chris Stevens, McDonald's longtime producer, to go to an old school recording studio to capture the songs live to tape. "I didn't even know if those places still existed, but we found [Nashville's] Welcome To 1979 Studio, which used to be a record pressing company back in the day," explains McDonald. "There were no computers, just tape machines, vintage amps, and old keyboards." He even used a microphone that Frank Sinatra used for years.
This old-school "analog" approach is quite different than any disc McDonald has recorded thus far, not to mention one of the most determined. "Analog is warmer and sounds better naturally," continues McDonald. "But tape is a tricky thing, and if you mess up, you have to rewind it and punch in the corrections so you just have to hope you get it. The reality is we just recorded live without stopping, trying to get all the way through without messing up. There's no stacking, overdubbing vocals or any of that studio stuff you might find on my regular records."
A few of the favorites found on The Analog Sessions are "Gravity," "Captivated," "Closer" and "Rise," and McDonald and Stevens dug deeper into the catalogue to re-capture gems like "Eyes Forward," "Beautiful" and "Take My Hand." The two brand-new cuts, "What Are You Waiting For" and "Through It All," appear in both analog and fully-produced radio versions. The former is slated as the album's first radio single.
"I'm never been a guy who thinks 'I've arrived' because my journey is a lifelong thing," McDonald muses. "I'm always trying to better myself and grow because the instant you stop learning, you start to die. I'm in a season of growth right now, just really striving hard to be more intentional, to hone my craft and to not just give part of my heart to it, but to wholeheartedly be faithful to the gifts God has given me. I want to impact the world, be a part of change and see the kingdom of God become real and active in people's lives."