April 10, 2015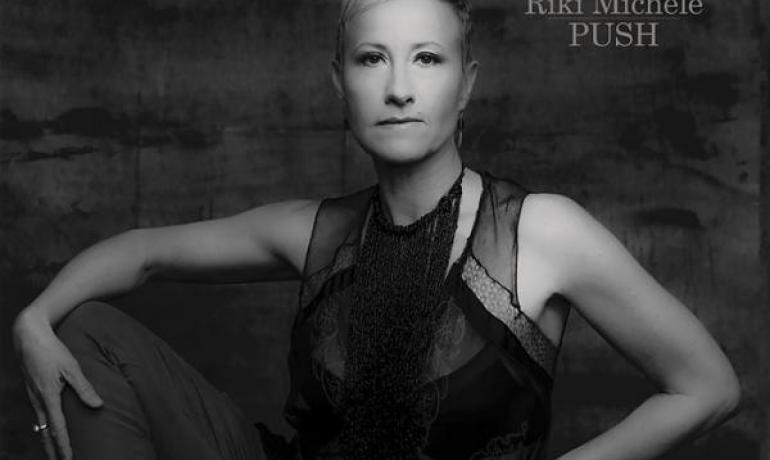 "I can feel you at my back, and hard to know just what we're doing here/'Cause a map is drawn, a love is gone, and I can drown or find my way/Here comes the push"
Maybe you saw it coming. Maybe it caught you by surprise. Whatever the case, it's the unwelcome event that is bound to dislodge you out of your comfort zone. If you're cooperative, into growth, and if you're patient…into peace.
It's also the name of the new collection of songs from Riki Michele, her first since 2002's Surround Me. But in a career that began in 1986 with her role in the legendary funk-rock band Adam Again, and expanded with only a handful of solo albums since 1989's Big Big Town, loyal fans have grown accustomed to waiting for the always special music and messages that come from this also-divine Miss M.
The transformative power of love and loss play a central role in Push. As Michele explains it, "The songs kind of birthed themselves for this project. I didn't really have an intention to write about my family, but it happened to a certain extent nonetheless. 'Into Peace' was about the shock of going through the death of my sister. It felt like a neatly stacked house of cards just collapsed, and I was left to pick them all up and make sense of them. We had just moved to Nashville and then decided to pack up and leave again to be back with family. The pain of saying goodbyes so soon to our Nashville family was somewhat relieved by having family and friends in Cali love on us until we stopped crying."
Such weighty issues call for a sensitive hand, both to hold and to guide, and after putting her proverbial toes in the water with a well-known music business veteran, it wasn't long before a new partnership was in bloom.
"I came to out to Nashville to attend a function for a friend of mine," recalls Michele, "and needed to turn it into a writing trip with some of my peeps including Margaret Becker. I am very uncomfortable writing on demand with other people, as I have little experience in that area. I was shaking like a Chihuahua when I arrived at Margaret's. She put me right at ease, got me a glass of wine and a blanket, and I fell in love with her immediately. "
"I brought a couple of song ideas with me, but we basically wrote a whole song together in that first two hour session and I was really happy with the outcome. On the plane ride home to San Diego, I decided I would like to at least write more with her, if not have her produce the record completely. Then when we agreed to do the whole project together and made it intentional, it felt like a perfect fit—extremely comforting—and that's what I needed. I needed it to be a comfortable and nurturing environment to create this record."
"Margaret is the smartest person I have ever been in the studio with. That was both absolutely wonderful and terrifying, but Maggie was definitely a guidance counselor more than anything else, and would say things like, 'I'm just here to serve you and serve the song and what you want the message to be.' We wrote together via Skype sessions that were amazingly productive, but we also shared a tremendous amount of music with each other to listen to for inspiration."
For those only aware of Becker's work as a singer-songwriter, Margaret explains, "My goal has always been to encourage and empower people. It meets all the things I love to do. I've learned so much since I started producing in 1998, and (recording engineer) Stephen Leiweke has been a big part of that process. Also, I go to the school of 14-year-old boys on YouTube. Whatever you need to know, there's usually a 14-year-old boy with a video to teach you!
"Really though, good record production is about finding what's unique about that artist, figuring out ways to shed light on that uniqueness, and then figuring out how to bring their sound into current taste and trends. The trickiest part is to find a legacy element for each artist that will linger and always be in vogue. With Michele, one of those elements is her lyrics. Her lyrics are unbelievably artistic and intimate, but her sense of melody is just gorgeous as well!"
Great lyrics and great melodies are the stuff of songwriting that stays long after the last listen. Push is full of such songs, from the gorgeous opener "Beautiful Wire" to the gentle catharses of "What Would You Say," "The Big One," "The Balance" and the title song, to the resolves contained in "The Sweetness," "The Gift" and "Into Peace," and the glorious celebrations of "I Feel Soul" and "Hey Mama Hey."
Of the album's themes, Michele commented, "There are moments when I feel comforted by a solid vision, and there are others when I am questioning everything I have ever believed about God and eternity. The songs reflect this, but there are glimpses of hope through all the songs as well, because indeed I never lost my hope or belief that things would straighten out or get better and that the truth would surface, as it always does."
If one thinks a record full of such food for thought would be drudgery to listen to, remember…this is a Riki Michele album, so one can rest assured that it will move your body as much as it moves your heart. This is thanks to the contributions of the aforementioned Stephen Leiweke, who not only engineered but played guitar throughout the album, as well as the glorious groove of drummer Jerry Roe and bassist Robert Cureton. Add the masterful keyboards of Matt Stanfield and the addition of a number of special voices that lend an almost tribal feel to a few of the songs, and you can start to imagine what it is to feel this Push.
Those voices play a part most notably on "Hey Mama Hey," the track that concludes the album in joyful celebration. As Michele tells its story, "I was at a retreat recently, and was asked to write a story or a song around a concept I was given. I was feeling so much camaraderie with these women, that this chorus came to me, so when it was time to perform it,  I taught it to the 40 women at the retreat, and they started singing it back to me in harmony and I sang the melody over them. You know…I lost my sister, but I'm not without sisters—there they were, right in front of me. It was such a joyful thing to me, and there is definitely a celebratory element to this song because of it. When we recorded this song in the studio with some of my dear friends who are also like sisters to me, it made me incredibly happy. You can hear them all distinctly, and it brings tears to my eyes every time.
"One of the most important things I've been feeling in my life lately is how connected we all are. When I see others, I see myself and feel connected, whether that's a child, someone of a different culture, someone struggling, someone thriving…I see myself in all their stories. 'I Feel Soul' is the outcome and celebration of feeling that connection.
"I'm thrilled to be putting this work out there. I feel it is not only my best work but my most honest work. It is a labor of love that encompasses people I love and tells the story about myself that I want to tell."
Michele's enthusiasm for Push is matched only by her producer and writing partner for the album, who summarizes her involvement as uniquely as the music itself.
"It's an honor to be a part of her legacy," said Margaret. "Michele is such an iconic part of musical history in such a badass way, and to be invited into that process with that kind of singer, was—in terms of my personal legacy—an absolute career highlight for me.
"I can't wait for people to listen to this album. Her heart is wide open and she is leaning in and whispering to tell you this big secret. The whole record is like this big secret she's telling you, and your response can't be anything but, 'For the love of God, tell me!' "
—Thom Granger