September 29, 2016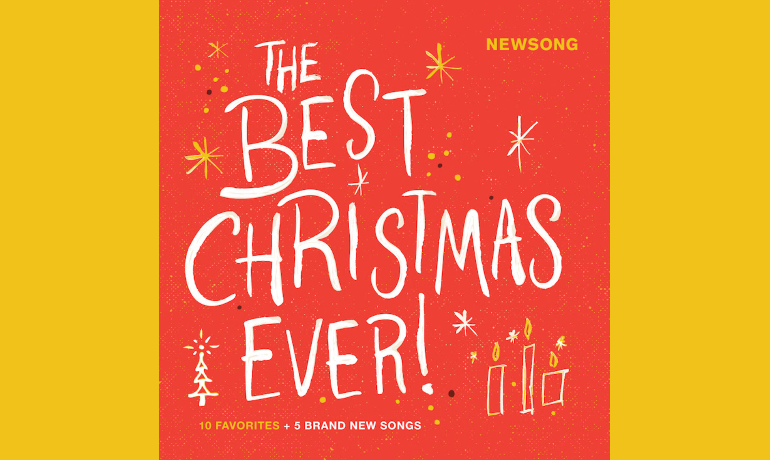 NASHVILLE, Tenn.: The Best Christmas Ever!, the third full-length holiday release from GRAMMY®-nominated NewSong, is set to bow October 21 from HHM Records/Word Distribution. Featuring 10 favorites from the group's best-selling projects The Christmas Shoes (2001) and The Christmas Hope (2006), The Best Christmas Ever! also showcases five newly recorded songs: the title-cut and lead single (co-witten by NewSong's Eddie Carswell and Matthew West), a duet with Love & The Outcome's Jodi King; "This Christmas"; "Sweet Little Jesus Boy"; "My Heart's With You," featuring Bethany Cruz; and "The King Is Born," spotlighting NewSong's Matt Butler on cello.
In addition to such previously recorded favorites as "Sing Noel," "Christmastime Is Here/Have Yourself A Merry Little Christmas" and "The Little Drummer Boy," the album is highlighted by a live rendition of "The Christmas Shoes," in celebration of the 15th anniversary of NewSong's GRAMMY®-nominated multi-format hit. Among the most popular modern holiday songs of all time, "The Christmas Shoes" inspired the New York Times best-selling novel of the same name by Donna VanLiere, as well as the top-rated CBS television movie, The Christmas Shoes, based on the book.
NewSong will perform selections from The Best Christmas Ever! during their popular "Very Merry Christmas Tour." Presented by Holt International, the tour kicks-off December 1 in Raleigh, North Carolina, and will feature GRAMMY®-nominated singer/songwriter Matthew West; acclaimed husband/wife duo Love & The Outcome; alternative/electronic worship band Reno; and visual artist Jared Emerson. The "Very Merry Christmas Tour" is slated to hit more than 10 cities this year, including Norfolk, Virginia; Waukesha, Wisconsin; Marion, Illinois; Muscatine, Iowa; and Farmington, Missouri.
"Christmas is one of our favorite times of the year, so we're especially excited to have both a new record and tour to ring in the season," says NewSong's Russ Lee. "We can't wait to hit the road in December with our good friends Matthew West and Love & The Outcome. It's going to be a blast celebrating the birth of our Savior. He is the Light in the darkness and the Hope for us all. Jesus is the answer to the problems in this world, and that's a message we look forward to sharing again and again."
With an iconic career spanning more than 30 years, NewSong's accolades include 19 albums, 20 #1 Christian radio singles, a #1 mainstream AC hit, a GRAMMY® Award nomination and induction into the Georgia Music Hall of Fame, among numerous other achievements. Founders and hosts of the Winter Jam Tour Spectacular, the annual outing exploded from a single show in 1995 to the world's #1 first-quarter tour for four consecutive years, according to Pollstar. One of the most beloved bands in Christian music, NewSong's discography includes such defining songs as "Arise, My Love," "Rescue," and "The Same God."
Source:
Turning Point Media Relations