March 05, 2014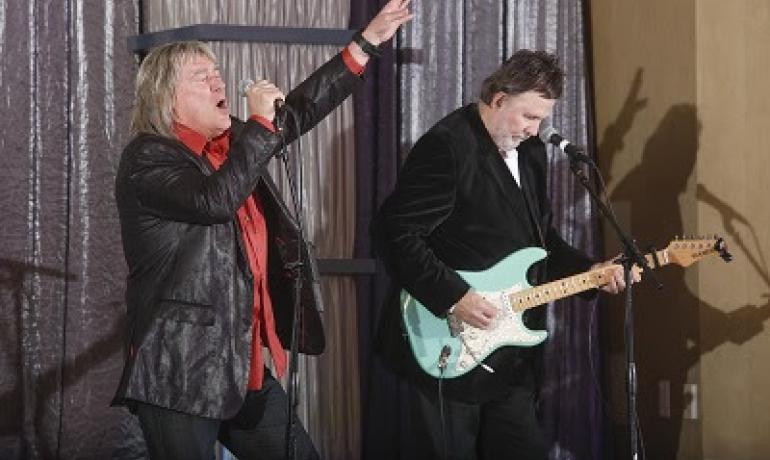 NASHVILLE, Tenn. - Petra lead singer John Schlitt was on hand at the SESAC Christian Music Awards as the pioneering Contemporary Christian band was honored with the prestigious Legacy Award. The presentation at the SESAC Christian Music Awards, held March 4 at Hillwood Country Club, marked the first time the award, whose previous recipients include Neil Diamond, Paul Shaffer and Alice In Chains' Jerry Cantrell, has been given to an artist in the Christian music genre.
 
Schlitt attended the event along with fellow Petra members Bob Hartman, John Lawry, Cristian Borneo and Greg Bailey. 
"It's always an honor to be recognized by your peers and this is no exception," said Schlitt. "The recognition of the history of the band is very much appreciated."
The presentation of the Legacy Award was the highlight of the event, which included more than 30 awards given to Christian music's most performed songs during 2013.
"This band is being recognized for its contribution of creativity that leaves a legacy for generations," said Tim Fink, SESAC's vice president, Writer/Publisher Relations. 
Producer Dino Elefante, who, with his brother, John Elefante, worked on 16 of Petra's 26 albums, surprised the Petra band members by appearing at the event just as the presentation was occurring.
"I'm here to present an award to people that I love. These guys don't know what they've meant to me and John," Dino Elefante said
"Eddie Degarmo (part of Christian rock duo Degarmo & Key and current Capitol CMG Publishing president) once told us 'You'll be identified with one or two artists for the work you'll do during your career.' If the word 'Petra' sticks to John and me, guys, we're proud. We're very proud. " Elefante said, emotionally. "Everything Petra did was deeply rooted in integrity, family and musicality. We worked on 16 records--millions of records sold--and it was a privilege to do it."
Petra was formed in 1972, setting out on a musical journey that would forever change Contemporary Christian music. In fact, when Christian music industry veteran Billy Ray Hearn first went to hear this band--at The Adam's Apple in Ft. Wayne, Ind., where the band had a regular gig--he was quoted as saying he knew they were "the most radical thing around...as far out as anything that had come out until that time." Hearn went on to sign the band to his label, Myrrh Records, and produce their debut album.
Forty years later, there have been 26 albums released, world tours, Grammy Awards, Dove Awards, inductions into the Gospel Music Hall of Fame, the Christian Music Hall of Fame and the Hard Rock Café. 
To commemorate the band's 40th anniversary, the band members released Petra: 40th Anniversary. 
For more information about Petra or the new CD, visit petraband.com.