August 30, 2012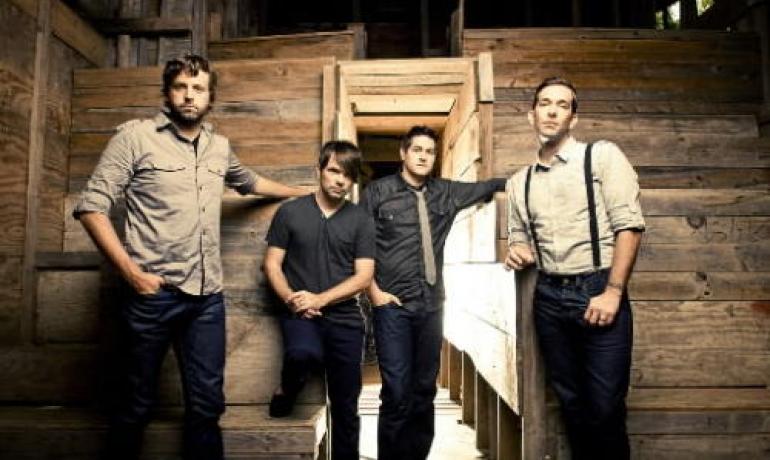 NASHVILLE, Tenn.— Multi-Platinum and GRAMMY® Award-winning Gray Matters/Essential Records recording artist Jars of Clay has announced their highly anticipated 2012 Fall tour, featuring special guests Sleeping At Last and rising newcomer Mariah McManus. During each performance, Jars of Clay will preview new songs from their forthcoming 2013 release, as well as share many of their best-known hits and concert favorites, along with a few surprises.
Launching October 4 in Virginia Beach, Virginia, the Jars of Clay Fall Tour will travel to Morristown, New Jersey; Alexandria, Virginia; Bethlehem, Pennsylvania; Foxborough, Massachusetts; and Houghton, New York, among other markets, before wrapping up October 13 in Pittsburgh. The Tour will be playing such esteemed venues as the Sandler Center for the Performing Arts in Virginia Beach; Mayo Performing Arts Center in Morristown; The Birchmere in Alexandria; Houghton College in New York; and the Levoy Theatre in Millville, New Jersey, among others.
"This Fall Tour will be a great opportunity for us to share for the first time some of the new music we have been writing and recording this summer," said Jars of Clay's Dan Haseltine. "We have admired the music of Sleeping At Last, and been impressed with the talents of 19-year-old Mariah McManus. We look forward to each evening being a unique time of music-making and camaraderie."
Jars of Clay, made up of members Dan Haseltine (vocals), Charlie Lowell (keyboards), Steve Mason (guitars) and Matt Odmark (guitars), launched its breakout career with the multi-format hit "Flood" in 1995. Since then, it has amassed more than 6 million in career sales (five Gold, two Platinum and one Multi-Platinum certification), three GRAMMY® Awards, an American Music Award nod, three GMA Dove Awards, and BMI honors for songwriting as well as performing. The group also claims 17 #1 radio singles, numerous film credits, and has headlined thousands of sold-out shows and festivals.
In 2005 Jars of Clay founded the non-profit organization Blood:Water Mission (www.bloodwatermission.com) to empower communities to work against the HIV/AIDS and water crises in sub-Saharan Africa through creative grassroots efforts. To date, Blood:Water has partnered with more than 1,100 communities in Africa, providing life-saving water for over 700,000 people in 13 different countries and access to HIV/AIDS education, treatment and support for over 30,000 people. Blood:Water's latest project is building a dam in drought-stricken Northern Kenya, which will provide a long-term water supply for 3000 people.
Sleeping At Last is the moniker for Chicago-based solo artist/songwriter Ryan O'Neal, whose song "Turning Page" was featured twice in the 2011 film The Twilight Saga: Breaking Dawn, Part One, placed in both the iconic wedding scene and subsequent honeymoon montage. O'Neal's other recent song placements include TV series So You Think You Can Dance, Grey's Anatomy, Private Practice, and Bones. Sleeping At Last pioneered an innovative recording project titled Yearbook in 2010/11, which consisted of a subscription-style release of three new songs every month for an entire year. Sleeping At Last has toured with Switchfoot, Yellowcard, Something Corporate, Zwan, and most recently, Christina Perri.
At 19 years old, Mariah McManus is an acclaimed singer/songwriter gaining notice throughout Nashville—and beyond. Her 2011 debut, Nice To Meet You, produced by Thomas Doeve and Aaron McManus, showcases the young artist's ability to marry intimate storytelling with beautifully produced harmonies and infectious melodies.
Source:
Turning Point Media Relations