July 25, 2012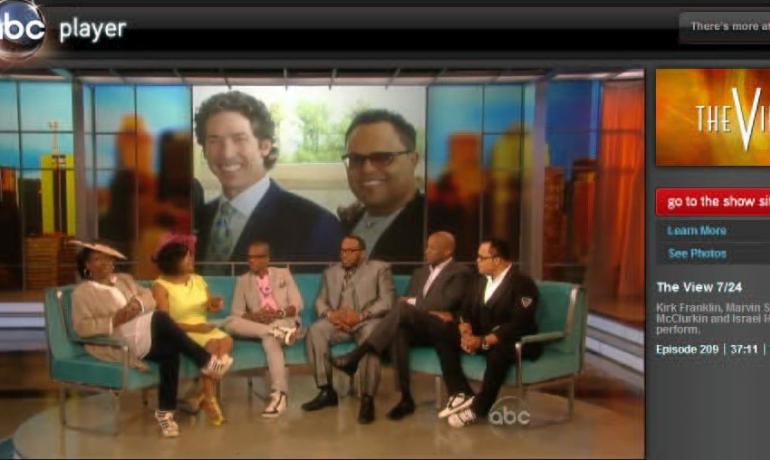 Four-time GRAMMY Award winner Israel Houghton appeared on ABC's "The View" live yesterday as part of a The King's Men tour group interview and performance. In a television first, Israel, along with friends Kirk Franklin, Donnie McClurkin and Marvin Sapp, performed a medley of their best-known songs on the same stage for the "The View" audience. The appearance was in support of the national The King's Men tour launching Sept. 16 and produced by Live Nation Entertainment. The tour marks the first time these four GRAMMY, Dove and Stellar award-winning artists have toured together.
During the show, co-host Sherri Shepherd asks, "Israel, you have released 11 Christian music albums over 15 years - we sing a lot of your worship songs in church - and for the very first time you got a chance to record with your daughter Mariah. How was that?"
Israel affirms that it was a special moment, recalling the recording of the song for his first live recording in five years with New Breed, Jesus At The Center, releasing Aug. 14. "One of the songs we did was an old Bob Dylan song, 'To Make You Feel My Love,'" says Israel. "My daughter sang it with this purity – she's 15-years-old, almost 16 – and it was amazing to look out and see 16,000 people all crying."
To watch the whole interview and performances of ABC's "The View" featuring "The King's Men" and Jamie Grace, go to http://abc.go.com/watch/the-view/SH559080/VD55221610/the-view-724.
Israel & New Breed's Jesus At The Center follows two back-to-back Billboard Top 200-selling, GRAMMY Award-winning solo studio albums for Houghton. Recorded live over four days in front of more than 29,000 worshippers at Houston's Lakewood Church, the Jesus At The Center double-CD, 18 song album with three additional studio singles features Israel & New Breed returning to their roots, delivering new anthems for the modern day church. More information is available at www.newbreedmusic.com.