May 09, 2012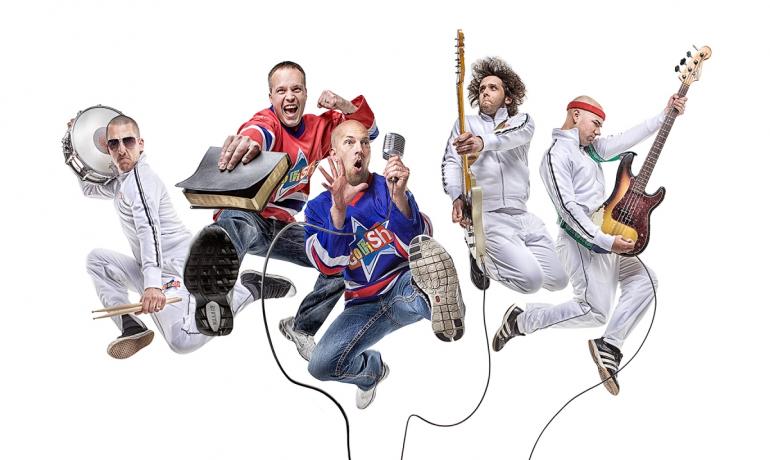 MINNEAPOLIS—Go Fish, longtime leading providers of music and resources for families and children, will be impacting hundreds of thousands this summer through their live performances and Vacation Bible School (VBS) curriculum. Go Fish will be bringing their unique concert experience for families to major markets across the country, including several music festivals. In addition, more than 3,000 churches are slated to use the Praise VBS program, reaching an estimated 300,000 children. Praise was created by Go Fish and features music by the group, along with GFK Records labelmate Denver & The Mile High Orchestra.
Go Fish and band will kick off their full summer with a hometown appearance at the KTIS Joyful Noise Family Fest 2012 in Minneapolis-St. Paul June 9. The group will also travel to Tulsa, Oklahoma; Charlotte, North Carolina; the Quad Cities (Iowa/Illinois); Lansing, Michigan; Lincoln, Nebraska; and Montgomery, Alabama; among other locations, before wrapping up the season September 2 with an appearance at the 2012 LifeLight South Dakota Festival in Sioux Falls. For a full concert schedule, visit www.gofishguys.com.
"We are truly amazed at how God continues to grow the ministry of Go Fish," said Jamie Statema, Go Fish founding member. "When families come out to see our concerts this summer, we have some exciting surprises in store and plan on premiering new music, as well as 'revamping' some of our most-requested songs from previous tours. We are also excited that so many churches will be utilizing our Praise VBS this summer; it is a privilege to help equip the local church as they strive to impact the next generation for Christ."
Following the recent departure of group member Andy Selness, Go Fish will perform as a duo comprised of Statema and longtime member Jason Folkmann. "Andy has been an important part of the growth and ministry of Go Fish and we will miss him," Statema said. "We respect his decision to move on to other opportunities and to be able to spend more time with his family. Jason and I are excited to partner with our three amazing band members to give families our best show yet. We can't wait to see what God has in store for Go Fish in the seasons ahead."
Go Fish is currently in the studio recording a follow-up to their acclaimed 2010 project, Kickin' It Old School. The group will also be releasing a four-week Christmas curriculum for elementary students this year, as well as beginning production on an all-new VBS for 2013.