June 21, 2022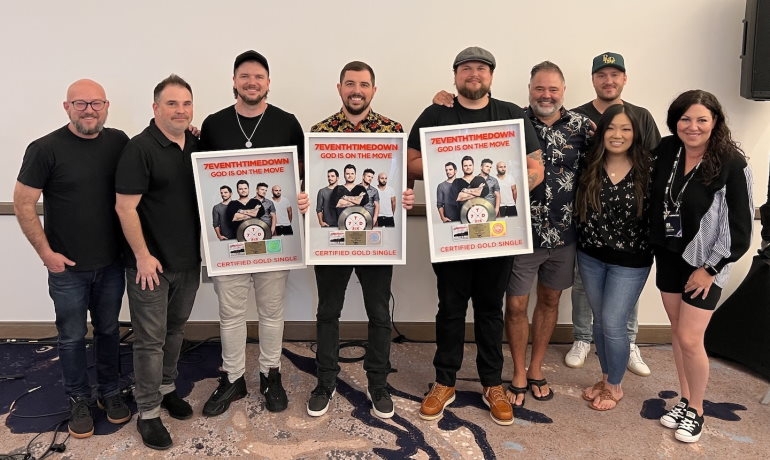 NASHVILLE, Tenn.—"God Is On The Move," the 2016 multi-week chart-topper from BEC Recordings pop/rock hitmakers 7eventh Time Down, has been certified Gold by the Recording Industry Association of America (RIAA), it was recently announced. With sales of the single exceeding 500,000 units, the career-defining hit remains one of the most popular songs in the band's acclaimed discography.
Penned by 7eventh Time Down members Cliff Williams and Mikey Howard along with Ian Eskelin and Tony Wood, "God Is On The Move" celebrates the mighty work of the Lord through the lives of His people. The Eskelin-produced anthem carries a timeless message that continues to connect with fans worldwide.
"After more than 25 years in the music industry, I know how rare it is to encounter a song that touches so many lives in such impactful ways," says Brandon Ebel, president of BEC Recordings and Tooth & Nail Records. "'God Is On The Move' is one of those songs—an inspiration to thousands of people, including me and my family. Congratulations to 7eventh Time Down for this well-deserved RIAA Gold single. It is an honor for us to be part of your musical journey."
"We write songs and send them out into the ocean like rescue boats for the lost and hurting, and even the saved who need a boost of encouragement or a reminder that they are not alone," shares 7eventh Time Down's Mikey Howard. "It's not that we write a song and hope it goes Gold—although we are deeply appreciative of the honor—we simply hope that when the boat comes back, it's full of people who needed help."
"I thank God for the team behind 'God Is On The Move,'" Howard adds. "I'm grateful to have played a small part in the success of this song, and we give God all the glory."
Kentucky natives 7eventh Time Down first catapulted into the spotlight with "Just Say Jesus," the hit title cut from their 2013 sophomore set, which spent 52 consecutive weeks on Christian radio charts. In addition, the band's multi-week #1, "God Is On The Move," was one of 2016's most played singles on Christian radio, according to Billboard.
Known for their signature pop/rock melodies and passionate lyrics, 7eventh Time Down comprises lead vocalist Mikey Howard, drummer Austin Miller, and bassist Cliff Williams. The group has appeared on the Grand Ole Opry and shared the stage with such artists as Newsboys, for KING & COUNTRY, and Matthew West, among others. 7eventh Time Down's BEC discography includes 2011's Alive In You; Just Say Jesus (2013); God Is On The Move (2015); and Brand New Day (2019).
Source:
Turning Point Media Relations