No albums list this artist in credits. You are able to edit albums and add credit info if you have created an account.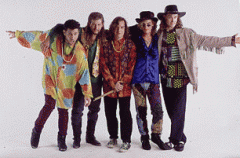 Jacobs Trouble
Jacob's Trouble was an American, Christian, rock band formed in Atlanta, Georgia area in the 1980s. The group originally consisted of members Jerry Davison (drums), Mark Blackburn (guitar), and Steve Atwell (bass), with Davison and Blackburn handling the lead vocals.
In 1989, Jacob's Trouble released their debut Terry Taylor-produced album, The Door Into Summer, a mixture of original numbers and cover versions of songs by The Beatles and The Monkees.
A year later the band released their second album, Knock, Breathe, Shine. The band received notice at the time for the song "About Sex", a song about the proper role of sex in society from a Christian perspective. Fearing a fundamentalist label, the band opted to remove the song from the album and replaced it with the more ambiguous "About Sex, Part 2". Despite this, the album was the group's best-selling record. They performed "About Sex" during a concert at Dellinger Park in Cartersville, GA.
One of Jacob's Trouble's songs, "These Thousand Hills," was given much wider exposure when Third Day performed a cover of the song on their album Offerings. Jacob's Trouble was referred to as "being a band ahead of its time."
After their second album the group added two new members (Ron Cochran on drums and guitarist Keith Johnston), allowing Davison to become the band's principal singer. The new line-up recorded the album ...let the Truth Run Wild!. After the album's release Blackburn left the band. The band went on to record one more record, the album Jacob's Trouble.
Jacob's Trouble split after their fourth album and its subsequent tour. A collection of "rarities" was released in 1994 entitled Diggin' Up Bones, which featured the long lost "About Sex". The group reunited briefly in 1998 to record a new song, "Step By Step," for a best of disc called The Jacob's Trouble Sampler Pak.
Jacob's Trouble. (2011, July 21). In Wikipedia, The Free Encyclopedia. Retrieved 12:28, September 29, 2011, from http://en.wikipedia.org/w/index.php?title=Jacob%27s_Trouble&oldid=440584575
Where are they Now:
Atwell, Johnston, and Cochran continue to record together under the name Janah.
Jerry Davison recorded one CD under the name sideways8 in 1998 and occasionally releases songs via such internet music sites as garageband.com and IUMA.com. He currently resides in Atlanta, Georgia where he serves as Creative Arts Pastor for Church at the Ridge in Hiram, GA.
Mark Blackburn released 2 solo CDs Flowerchild (1996) & The Continuing Adventures of.... (1997) which are available from CD Baby as well as Mark's web site- http://web.mac.com/monkeeman -as well as iTunes. He is pastor of reallife church in Dallas, GA.
Websites:
External links are provided for reference purposes. Christian Music Archive is not responsible for the content of external internet sites.