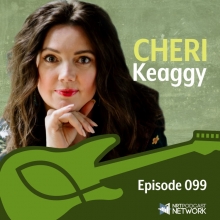 The world was introduced to my guest when she released her first album, Child of the Father, in 1994. She followed that album up with My Faith Will Stay, What Matters Most, and There's Joy in the Lord to round out the 1990s. You might figure that everything has gone great for Cheri Keaggy with album titles like these. But like so many of us, life has a way of handing out difficult situations. In addition to several hit songs, Cheri has also had numerous life blows. 
This reminds me of the verse in 2 Corinthians that says, "All praise to God, our merciful Father and the source of all comfort. He comforts us in all our troubles so that we can comfort others!" This month Cheri released the album What I Know to be True, which was born out of another season of challenges, and I'm looking forward to hearing how Cheri has experienced that comfort.
Cheri Keaggy: Website, Facebook, Instagram, and Twitter.
And of course, on our page: Christian Music Archive.
Christian Music Archive Links: Website, Facebook, Instagram, Twitter, LinkedIn, and YouTube.
The podcast and our website are made possible through the generous support of listeners like you. Click here to donate.
**** Please check out Mercy, inc. and see how you can support them today! ****
The songs used in this episode are the intellectual property of their respective copyright owners and are used with the artist's permission.