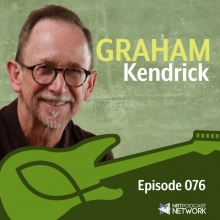 My guest today has been writing music since the early 1970s. And I'll bet that many of you have sung some of his songs in your church, songs like "Shine Jesus Shine" or "Knowing You." Graham has released more than 40 albums in the past fifty years and has introduced the concept of PsalmSurfing, a way of using the songbook of the Old Testament in our daily lives. He is a worship leader, songwriter, and teacher, and I'm just really excited to welcome, all the way from the United Kingdom, Mr. Graham Kendrick.
Graham Kendrick: Website, Facebook, Instagram, and Twitter.
And of course, on our page: Christian Music Archive.
Christian Music Archive Links: Website, Facebook, Instagram, Twitter, and YouTube.
The podcast and our website are made possible through the generous support of listeners like you. Click here to donate.
**** Please be sure to check out Mercy, inc. and see how you can support them today! ****