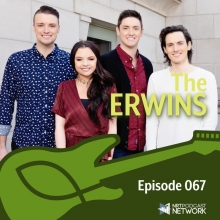 Today we welcome The Erwins to the podcast, Keith, Kody, Kris, and Katie are siblings who have been singing together since they traveled with their father who is an evangelist. This Southern Gospel family is signed to Stowtown records and this past year won a Dove award and earned a Grammy nomination. I'm looking forward to getting to know more about The Erwins.
The Erwins: Website, Facebook, Instagram, and Twitter.
And of course, on our page: Christian Music Archive.
Christian Music Archive Links: Website, Facebook, Instagram, Twitter, and YouTube.
The podcast and our website are made possible through the generous support of listeners like you. Click here to donate.
**** Please be sure to check out Mercy, inc. and see how you can support them today! ****