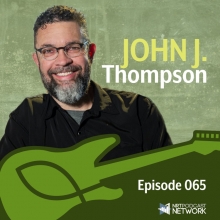 I'm honored to welcome John J. Thompson to the podcast. John is the founder and curator of True Tunes and host of the new True Tunes Podcast. He is also a music industry veteran, musician, publishing executive, author, promoter, retailer, pastor… well, he's worn a lot of hats over the years. He is a major music fan and has a desire to see all of us "Listen to better music and listen better to music."
John J. Thompson: Website, TrueTunes, Facebook, and Twitter.
And of course, on our page: Christian Music Archive.
Christian Music Archive Links: Website, Facebook, Instagram, Twitter, and YouTube.
The podcast and our website are made possible through the generous support of listeners like you. Click here to donate.
**** Please be sure to check out Mercy, inc. and see how you can support them today! ****