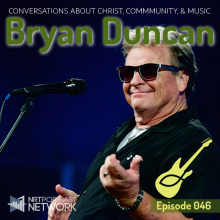 Bryan Duncan is a Christian music pioneer. As a member of the Sweet Comfort Band, he helped pave the way for contemporary Christian music. After recording six albums with Sweet Comfort, he went on to a successful solo career releasing more than 20 albums. His powerhouse vocals combined with horn-driven rhythm and blues is just about the best music ever recorded. So I'm excited today to sit down with this legend of Christian music.
Bryan Duncan: Website, Facebook, and Twitter.
Want to help crowdfund his new Christmas project? Click Here
And of course on our page: Christian Music Archive.
Christian Music Archive Links: Website, Facebook, Instagram, Twitter, and YouTube.
The podcast and our website are made possible through the generous support of listeners like you. Visit Patreon to learn how you can support the work we do.
**** Please be sure to check out Mercy, inc. and see how you can support them today! ****