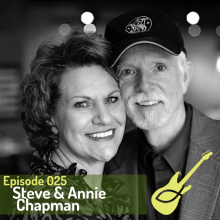 Today I welcome to the husband and wife team of Steve & Annie Chapman. Christian music enthusiasts will recognize Steve and Annie as a vocal recording duo from the early eighties, but before that, they were both in the pioneering CCM group Dogwood. What many may not realize is that they have continued to record and have released around 20 albums and are seasoned authors, releasing more than 30 books between them, covering topics from marriage and parenting to hunting and character development.
Steve & Annie Chapman: Website, Facebook, and Bandcamp.
And of course on our page: Christian Music Archive.
Christian Music Archive Links: Website, Patreon, Facebook, Instagram, Twitter, and YouTube