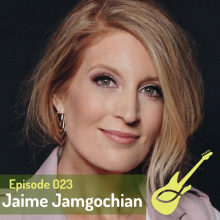 Jaime Jamgochian is my guest today on the podcast. Jaime is a Berklee College of Music graduate, which means she has some mad music skills. But what is most evident about her life is her reliance on God. She is passionate about sharing her faith and telling how God is a healing, caring God. Now, Jaime has just released All Things an album about how God is working to make things beautiful. Like she states during our chat, "If it's not good yet, God is not done yet."
Jaime Jamgochian: Website, Facebook, Instagram, and Twitter.
And of course on our page: Christian Music Archive.
Christian Music Archive Links: Website, Patreon, Facebook, Instagram, Twitter