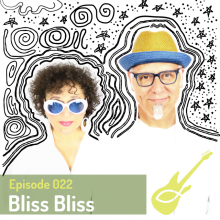 On today's podcast, we have a special treat to talk to not one, but two really talented people. First, we've got Renee Garcia-Bliss. Renee released a couple of albums back in the late 1980s and has done background vocals both in the studio and on the road. I remember seeing Renee as one of Amy Grant's back up vocalists on several of her tours. Then we have Lang Bliss, who has a pretty impressive resume of his own. Lang has been a drummer, producer, songwriter, and live event promoter for some artists you might know... Michael W. Smith, Michael McDonald, Big Daddy Weave... and the list is longer but you get the idea. Somewhere in all of this busyness, they found time to get married and release albums together.
Bliss Bliss: Website, Facebook, Instagram, and Twitter.
And of course on our page: Christian Music Archive.
Christian Music Archive Links: Website, Patreon, Facebook, Instagram, Twitter