June 29, 2017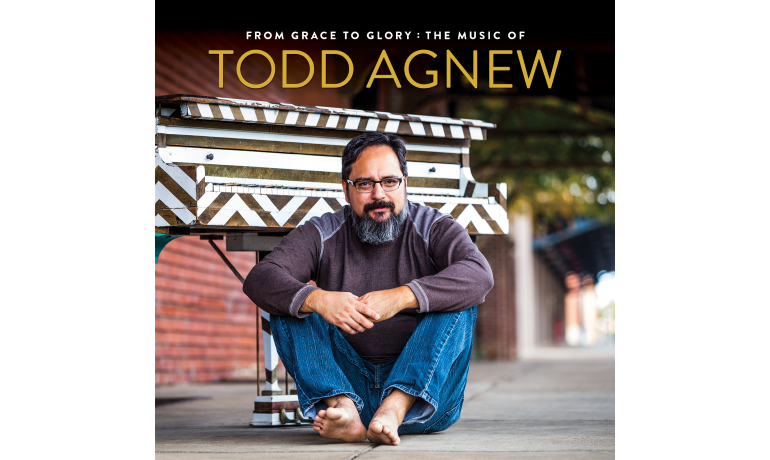 Chart-topping seven-time Dove Award-nominated singer/songwriter and worship leader Todd Agnew has unveiled his latest project, a 16-track collection of new songs, as well as unreleased, remixed, and favorite tracks from the vault.
The new collection, appropriately entitled From Grace to Glory: The Music of Todd Agnew, released on May 26, 2017 from Ardent Records.
Serving as a scrapbook of sorts, From Grace to Glory is a musical chronicle of Agnew's journey of faith and ministry. It is a time capsule of moments, both profoundly intimate and exuberantly bold, that captures the essence of walking out the gospel hand-in-hand with friends and family, through good times and hard times. It is the journal of one man's transformation from a young singer/songwriter to troubadour theologian.
Family and friendship have always played a huge role in Agnew's life, music and ministry, and those relationships run like a thread throughout From Grace to Glory. Agnew collaborated with his long-time friend Chris Collins (Agnew's co-wrter on "Grace Like Rain") on one of the two new songs on this project, "Nearer Home." But it was Agnew's studies at Dallas Theological Seminary (where he is nearing completion of his Masters degree) that led him to pen the first of a new generation of worship songs--the potent, reverential contemporary hymn, "Glory to Our Great Redeemer."
"The song talks about ransom, redemption, adoption and more," Agnew explains. "Our worship grows deeper as we understand more fully all God has done on our behalf."
The song reflects Agnew's deepening maturity. The process has included getting married, embracing fatherhood, moving to Texas and delving deeper into the formal study of God's Word at seminary. Along the way, he has emerged as a seasoned scholar and mentor in the fields of worship theology and worship leadership. Adding "college professor" to his list of titles, Agnew joined the faculty of Visible Music College's Dallas campus in 2015 and was recently tapped by Dallas Theological Seminary as a guest lecturer for its 2017 Shaped by the Future conference. He is increasingly sought after as a guest speaker at churches and conferences across the country.
Along with the new material, the prolific singer/songwriter layers into From Grace to Glory a collection of some of his most cherished songs which are not part of his Ardent Records discography, most of which have not been previously released. He includes "Beautiful," the original version of a song written by Mercy Me's Nathan Cochran, which Agnew rewrote and originally recorded in 2005 as "Unchanging One" during the Reflection of Something sessions. He pulled another unreleased track from the vault, and invited talented Visible Music College student Trulah Maloy to join him for a duet, making "His Eye Is On the Sparrow" a truly special addition to an already exceptional project.
Additional unreleased or alternate tracks include:
* "On A Corner in Memphis" (original demo from the Better Questions sessions)
* "Martyr's Song" (original Matt Bronleewe production of a song Agnew wrote as an accompanying piece for best-selling author Ted Dekker's novella, The Martyr's Song)
* "This Is All I Have to Give" (alternate version from the Do You See What I See? Christmas record with Agnew on lead vocal)
* "When Love Comes to Town." (U2 Cover from the benefit album, In the Name of Love: Artists United for Africa)
Finally, the cornerstones of From Grace to Glory are four immensely popular songs from Agnew's first two records. "Grace Like Rain" and "This Fragile Breath (The Thunder Song)" from his debut project, Grace Like Rain, both hit Number 1 at Christian radio. Agnew was honored with Dove Award nominations for New Artist of the Year, Best Rock/Contemporary Album of the Year and Best Rock Contemporary Song for "This Fragile Breath (The Thunder Song)." "In The Middle of Me" and "My Jesus," both from Agnew's sophomore project, Reflection of Something, also garnered significant radio airplay.
Agnew builds on that foundation with four more fan favorites:
* "Isaiah 6" (a breathtaking worship song inspired by Isaiah's vision of the Lord)
* "Did You Mean Me?" (a confessional ballad about what it means to be chosen, called, and loved)
* "The One That You Want," (co-written by Agnew and multi-Dove Award winner Jason Ingram)
* "Our Great God" (written by Fernando Ortega and Mac Powell, featuring a duet with Grammy winner Rebecca St. James).
From Grace to Glory: The Music of Todd Agnew is the story of God loving and leading a young man to accept the grace given him and teaching him to extend that grace to others. "From Grace to Glory is the gospel," Agnew declares. "We come to faith by grace. We live our lives by grace. We enter eternity by grace. And--from first to last--it's all for God's glory...that His character and mercy might be revealed and worshiped, both now and evermore."