May 03, 2012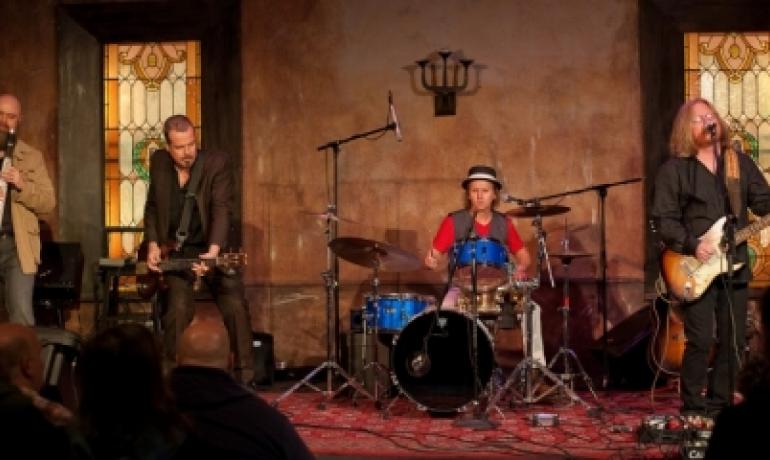 Nashville, Tenn – After three decades together, iconic alternative rock band The Choir is set to release their 14th studio album. The Loudest Sound Ever Heard, will release May 15th, 2012 on their own Galaxy21 label.
As one of the few bands left standing from the 1980's SoCal music movement wave that swept nationwide more than 30 years ago, The Choir continues to make their renowned atmospheric music married to lyrics stirred by life's inspirational lessons in the context of real relationships - love, despair, light, dark, hope, and recovery. Comprised of original members Derri Daugherty (lead vocal/guitar), Steve Hindalong (drums), Dan Michaels (saxophone/lyricon), and Tim Chandler (bass), The Choir thrived in the creation of The Loudest Sound Ever Heard.
With their past releases described as, according to the Los Angeles Times, "magical songs that combine strains of murky psychedelia with pure pop," and Billboard touting The Choir for their "dark poetic leanings, effects-laden guitars and strong melodic hooks," this newest album certainly remains true to The Choir's core classic sound. Yet in the creation of The Loudest Sound Ever Heard, the song crafting and production is enhanced more than ever through their years of experience and collaboration.
Says Daugherty, "At this point in our life as a band, we know each other really well and sincerely appreciate what we each bring to the creative process. So every time we get an itch to make another record it's fun and new. It's like we've got the excitement we had when we were younger, wanting to make great music, as well as the confidence that comes with experience."
The project's title of The Loudest Sound Ever Heard is taken from the infamous volcanic explosion on the Indonesian island of Krakatoa in the late 19th century. "A quick Wikipedia search revealed that to this day the event is considered to be "the loudest sound ever heard," Drummer/lyricist Hindalong explains. "I referred to that tragic occurrence in the first verse of the song 'I'm Learning to Fly,' which is thematically central to the album. It's about living each day like it truly matters. 'Living to love in a dying world.' Such catastrophic events remind us of our vulnerability, and how we ought to celebrate every breath."
Hindalong continues, "There is also a figurative reference to the title – 'A true friend's heart is the loudest sound ever heard' - in the song 'Melodious,' which is a tribute to our long time friend and bandmate, Tim Chandler. Incidentally, Tim introduced Derri and I back in 1979 and we've been making music together ever since!"
The final song on the album, 'After All,' features a stunning duet with Leigh Nash of Sixpence None the Richer. "We've known Leigh since way back," says Daugherty, "She's a friend and one of my favorite singers ever. We're thrilled that she was able to sing on this project. Matt Slocum [Sixpence guitarist] also played cello on a couple of songs. Those guys are great."
The Choir recently celebrated the 25th anniversary of the release date of their groundbreaking and critically acclaimed album, Chase the Kangaroo (1988) by performing the record in its entirety on their spring tour. Following this special set the band featured one of their new songs, 'Cross that River,' from The Loudest Sound Ever Heard, as well as several fan favorites from their past catalog. Cities included Atlanta, Detroit, Chicago, Washington DC, and St. Louis among others.
The band will also host their second VIP get-together this summer at Nashville's Dark Horse Studios. Fans that have opted in to this event will get a chance to experience a special in-studio recording session by the band, as well as a private concert and cook out with the band and their families. For further details, please click here.
"I'm so glad we get to keep doing records like this," shares Michaels. "Here we are standing together 30 years down the line and we still love and respect each other. It's amazing, really."
Daugherty adds, "We are fortunate to have such devoted listeners after all these years. That's what keeps us motivated to continue making music. In that way we are lucky and blessed, and I'm thankful."
"We don't pretend to have the answers," concludes Hindalong, "We are still struggling, still wandering and seeking; but if our music inspires listeners to consider important things with open hearts, well, that's a good thing. Hopefully, the spirit of love will stir within and the truth will resonate."