February 10, 2017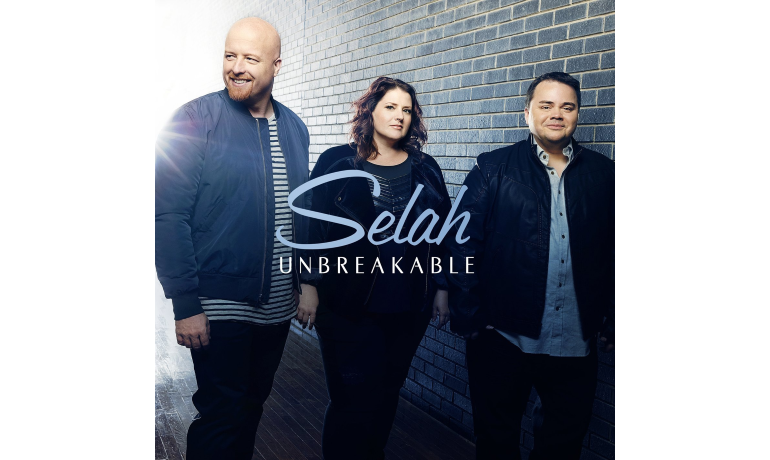 NASHVILLE, Tenn.: Celebrating 20 years since their inception, multi Dove Award-winning Curb recording artist Selah is set to return March 24 with the highly anticipated Unbreakable. The iconic trio's first all-new studio recording in nearly three years, Unbreakable was produced by founding members Todd Smith and Allan Hall and longtime collaborator Jason Kyle Saetveit. The project also includes contributions from such acclaimed producers as Charlie Peacock (The Civil Wars) and Scott Cash (Dan Bremnes).
Unbreakable is now available for pre-order on iTunes with two instant-grat tracks: "I Got Saved" and the title-cut. The album can also be pre-ordered at LifeWay Christian Stores, where customers instantly receive a free CD featuring three songs from Unbreakable as well as an Open Doors USA "One With Them" bracelet in support of persecuted Christians around the world.
Showcasing a range of newly-penned selections, hymns and classic songs of faith—a combination which has consistently hallmarked Selah's two-decade career—Unbreakable is highlighted by the debut single "I Got Saved." Written by Jennie Lee Riddle ("Revelation Song"), Crystal Yates and Corey Voss, the song is particularly poignant for Smith.
"There's such a power in the lyric," he says of the Scott Cash-produced and Ed Cash (Chris Tomlin) executive-produced track. "It reminded me of when I accepted Jesus as a 5-year-old in a small town church in Michigan, of that day and of all He's brought me through since. When we share our testimony, we open up the Gospel and encourage the saints."
Similarly, the soaring ballad "Broken Ladders" found immediate resonance with Perry and continues to be a reminder of her worth in Christ. "The first time I heard it, I just wept and wept in my car," she says. "I'd gotten to a place of nothing being good enough, trying to meet the impossible fake-perfect standards of Instagram and Pinterest, expectations no woman could ever achieve. 'Broken Ladders' broke open something inside me, allowing me to let those impossible standards go, to lay those insecurities at His feet so He can do His work in me."
Additional standouts of the 13-song Unbreakable set include the Charlie Peacock-produced "People of the Cross," an anthem of Hope for the persecuted Church; the African-influenced "This Little Light of Mine" (a tribute to Smith's missionary heritage); "Jesus Will Still Be There," a new arrangement of the Point of Grace classic featuring Hall's lead vocal; and favorite hymns "In the Sweet By and By," "Swing Low, Sweet Chariot/I'll Fly Away," and "Leaning on the Everlasting Arms," which showcases 14-time GRAMMY® winner Ron Block of Alison Krauss + Union Station.
For 20 years Selah's music has brought Hope and healing while helping introduce classic songs of faith to a new generation. Their signature anthems include "You Raise Me Up," "Press On," "Wonderful, Merciful Savior" and "You Amaze Us," the latter of which spent 11 weeks at #1. Comprised of Todd Smith, Allan Hall and Amy Perry, Selah has garnered eight Gospel Music Association Dove Awards—including five Inspirational Album of the Year trophies—a Gold-certified album, eight #1 singles and total career sales in excess of 4 million units. One of Christian music's most beloved groups, the trio has performed at Carnegie Hall; headlined a sold-out show at Nashville's historic Ryman Auditorium; and debuted on the prestigious stage of the Grand Ole Opry, among numerous high-profile performances around the world.
Selah "I Got Saved" Official Lyric Video:
Source:
Turning Point Media Relations