March 23, 2016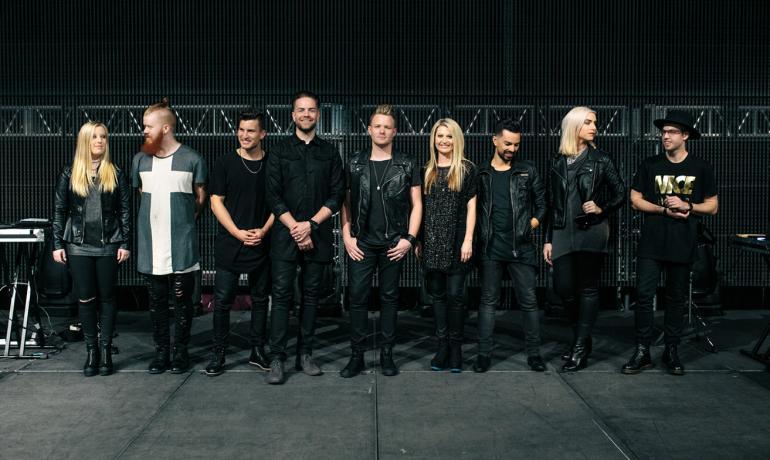 Capturing the mission, heart, and worldwide movement of Planetshakers Church, one of Australia's fastest growing churches in history, Planetshakers Band releases its Momentum: Live in Manila EP globally through Integrity Music March 25. The EP encapsulates the excitement and passion of 30,000 worshippers across two sold-out Planetshakers events held on back-to-back evenings in Manila's Araneta Coliseum last August.
Commemorating the event, the recording's cover art features an overhead snapshot of the coliseum where the new song, "Momentum," as well as worship favorite, "Nothing Is Impossible," were recorded live. Momentum also features studio recordings of the pop-dance track "Come Right Now" and the worshipful ballads "Face To Face" and "I Know Who You Are." The EP further includes the live video for "Momentum," which Planetshakers will release on Friday via their YouTube channel.
Almost immediately following the launch of Momentum: Live in Manila, Planetshakers hosts its annual Awakening conference March 29 – April 1 in Melbourne's Hisense Arena. Expecting 15,000-plus people to pack out the arena, Planetshakers Awakening 2016 will feature Russell and Sam Evans, senior pastors and founders of Planetshakers, as well as At Boshoff, Samuel Rodriguez, Chad Veach, Andy Harrison and Planetshakers Band.
Remarkably, for the first time ever, another 700 million people around the world will have access to Planetshakers Awakening 2016 as Daystar Television Network broadcasts the conference live. For all the details of this broadcast, go to www.Daystar.com/Awakening.
"We are so excited to welcome Daystar and their viewers from around the world, in addition to the worshippers in the arena, joining us for Planetshakers Awakening 2016, the year of 'Overflow'!" says Russell Evans, revealing the theme of the event. "Our heart for each person is they would encounter Jesus; and as they do, their hearts would be stirred and dreams awakened. We believe that as we gather together for Planetshakers Awakening, God will increase each person's measure to receive the overflow that is flooding from God's Kingdom into this earth. We want to encourage all to prepare their hearts to receive what God wants to impart as we seek, worship and encounter Him together."
Marcus Lamb, Founder and President of Daystar Television Network, shares, "There is nothing better than seeing God move around the world! Wherever we find that happening, Daystar loves to share it with our viewers, encouraging believers and uniting the global church. I've watched God use Planetshakers, filling stadiums and arenas with the love, hope and power of God, seeing breakthrough and destiny unlocked in people's lives. We are honored to partner with Planetshakers to spread God's message of 'Overflow' to the ends of the earth!"
Daystar and Planetshakers teamed last fall for the Planetshakers LIVE! 90-minute special, and again earlier this month for the broadcast of the "best of" Planetshakers Awakening events from previous years featuring Bishop T.D. Jakes, Jentezen Franklin, Chris Hill and other international keynote speakers.