May 08, 2013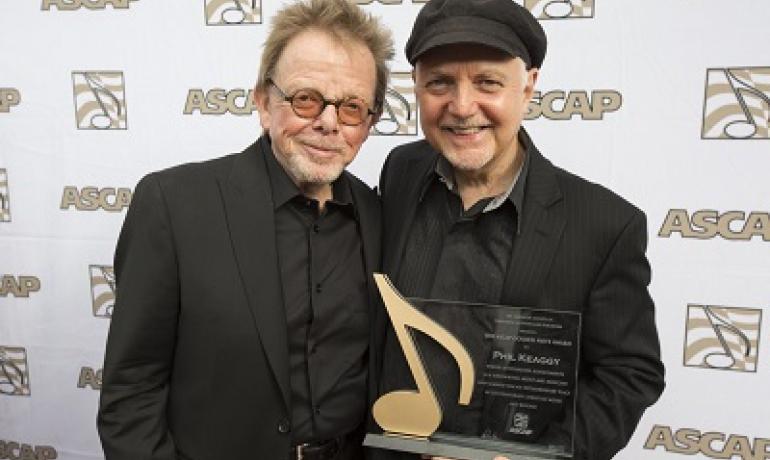 NASHVILLE, Tenn.  - Dove Award-winning singer/songwriter and guitarist extraordinaire Phil Keaggy was honored in front of an invitation-only audience of industry peers when he received the prestigious ASCAP Golden Note Award in recognition of his outstanding career achievements. The ceremony was held May 6 during the 35th Annual Christian Music Awards at the Franklin Theatre in Franklin, Tenn. The event also honored the songwriters and publishers of ASCAP's most-performed Christian songs of the past year. 
The portion of the evening honoring Keaggy included an an emotional video montage of the guitarist's 40-plus years as a musician, interspersed with family photos with his wife, Bernadette, with whom he celebrates 40 years of marriage this year, and their three children, Alicia, Olivia and Ian, who has followed in his father's footsteps as a member of the award-winning pop band Hot Chelle Rae. Bernadette Keaggy and their children were in the audience, along with Phil Keaggy's sister, Geri Bobeck.
Following the video presentation, Keaggy took the stage to perform his classic "Salvation Army Band." In true Keaggy fashion, the guitarist turned in a signature one-man-band performance—creating multiple loops with his Lexicon Jamman and utilizing a dizzying assortment of effects pedals—which brought the industry audience of more than 300 to its feet in a spontaneous standing ovation.
"From now on my nickname for you will be 'soul catcher,' because you catch our souls," said Paul Williams ASCAP's Chairman of the Board and award-winning songwriter, at the conclusion of Keaggy's performance.
"Phil is one of the most admired guitarists in modern history and I am honored to salute him in this honor tonight," Williams said. "Phil, you are a giant."
"The reception at the ASCAP Awards was heartwarming; I am so humbled and honored to be recognized," said Keaggy. "My thanks to the many who have shown so much love and support."
Past recipients of the ASCAP Golden Note Award have included Michael W. Smith, Garth Brooks, Alan Jackson, Bob McDill, Don Williams, Lindsey Buckingham, Reba McEntire and J.D. Souther.
"Phil Keaggy's influence on both the contemporary Christian and mainstream music markets is immeasurable," says ASCAP's Michael Martin. "We are very proud to honor him with the ASCAP Golden Note Award in recognition of his incredible career."
Keaggy is one of the most admired figures in music today. His fans find solace in his beautifully penned lyrics, memorable melodies and blistering guitar licks. Many musicians—both aspiring performers and seasoned professionals—have been influenced by his style. Keaggy's solo career has spanned more than 40 years and has included over 50 solo albums, both vocal and instrumental, as well as eight releases with his band, Glass Harp. A sought-after studio guitarist, Keaggy continues to sell out concerts all over the United States, with an ever-changing style that moves from rock and roll to fully orchestrated instrumental compositions.
Keaggy earned his first Dove Award in 1988 for his instrumental album The Wind and the Wheat, and won his second in 1992 for the Celtic-influenced Beyond Nature. From 1998 to 2001, Keaggy dominated the Instrumental Album of the Year category at the Doves, winning for Invention, Acoustic Sketches, Majesty and Wonder, and most recently, Lights of Madrid. For three years in a row, Keaggy was voted one of the top fingerstyle guitarists by Guitar Player Magazine readers. He has also gained a reputation as an amazing producer and engineer, producing albums and songs for such artists as Cheryl Bliss, Keith Moore, Phil McHugh, Third Season, Rachel Lanier, Gianna Jesson and Kevin Gould.