December 13, 2012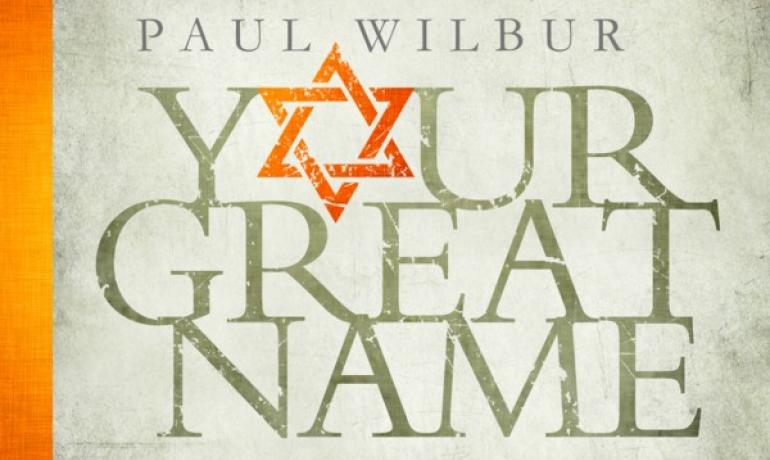 Preeminent messianic worship leader and Dove Award nominee, Paul Wilbur, who has sold over 1.5 million albums, releases Your Great Name from Integrity Music Feb. 19. An exciting departure for this inspired and experienced artist, the twelve songs of freedom, exaltation and hope on Your Great Name open new vistas for Wilbur's Messianic ministry, with its rich heritage of Jewish worship, on his first studio release in nearly 20 years.
Produced by Nashville veteran Dan Needham and over a year in the making, Your Great Name highlights material written by Paul and a sterling cast of collaborators that includes such notable names as Michael Farren, Don Poythress, Steve Merkel and Michael Neale, cowriter of the Dove Award winning title track. The resulting music, while still firmly grounded in the song styling that has made Paul an international ambassador for Messianic worship, adds a fresh contemporary element to the musical mix, thanks in part to the support of top-notch studio musicians.
But at the heart of Your Great Name is an inspiration that, as Wilbur explains, came directly from God. "About two years ago," he says, "I heard a word from the Lord. He told me simply, 'If you have a need, I have a name.' That became the theme of this album, with each song highlighting one of the covenant names of God revealed to the Jewish people. While some, like El Shaddai, El Elyon, Adonai and Elohim are very familiar, others are less well known. Your Great Name is my way of celebrating all the abundant attributes of the God of Abraham, Isaac and Jacob."
With such standout new tracks as "Who Is Like You," "Song of the Beautiful Bride" and "Glory Come Down," the album also features new versions of church favorites like "Great I Am." It also includes the ancient Hebrew hymn "Ani Ma'amin" and a majestic rendition of the title track, originally recorded by Dove Award winner Natalie Grant.
Taking the new music around the world to exalt the name of God to all the nations, Wilbur and his group keep a virtually non-stop international touring schedule. Traveling as many as 250 days a year proved daunting when it came time to record Your Great Name.
"We had to grab opportunities when we could," Wilbur explains, "but we felt the message of these songs was so important that we had to make this album. At first I missed the excitement that comes with a live recording, but I learned to appreciate the chance to shape and mold this material, to introduce new musical elements even as we were able to stay true to our original vision of Messianic worship. But what I'm most excited about is the opportunity to bring these songs and their message to the nations in a language they can understand."
Having performed and recorded in a total of six different languages: English, Spanish, Portuguese, German, Hebrew and, most recently, French, a Spanish version of Your Great Name is scheduled to be recorded live in Mexico in early 2013.
Whether he's leading worship before crowds of thousands in the Middle East, singing to packed soccer stadiums throughout Latin America, or bringing his anointed Messianic message directly to the people of Israel, Wilbur's distinctive songs of praise and worship have reached millions across the planet. For over forty years, in thousands of concerts and a journey with Integrity Music that began 20 years ago with his first Messianic project, Up To Zion, Wilbur speaks a language of melody and meaning that reaches far beyond cultural, social and political borders to touch people directly with the love of God.
Wilbur's musical history reaches back to the mid-seventies when he was a young college student studying to be an opera singer and cantor before a born again experience took him in a radical new direction. He started Harvest, an early Jesus Movement band, and subsequently formed Israel's Hope, dedicated to bringing the message of the gospel back to the Jewish people. His cross-cultural, multi-lingual concert ministry would in time take him to every continent on the globe, playing before huge audiences in far-flung locations ranging from South Africa to Singapore, Kuwait to Honduras, France to the Philippines and beyond. And he would go on to perform in virtually every Spanish speaking country on the planet, including recent concerts in Cuba.
"God has taken us to so many places," says Wilbur, "before so many people who have so many challenges in their lives. He wants them to know the same thing he told me: He has a name to meet every need. That's something the whole world needs to hear.