September 14, 2015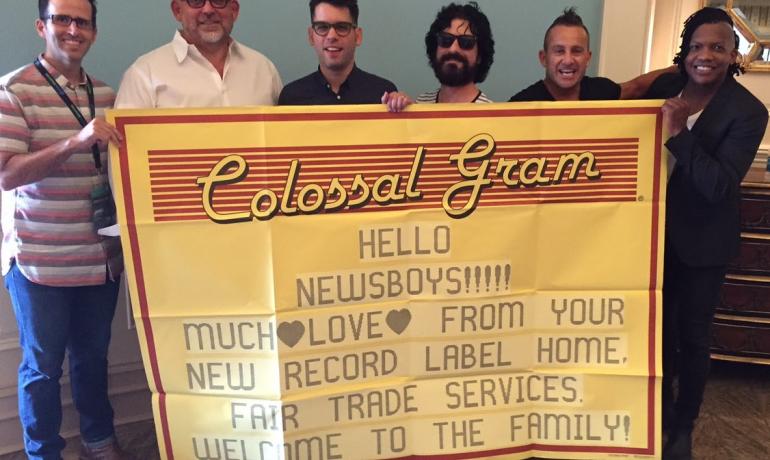 NASHVILLE, Tenn.—Platinum®-selling, Dove Award-winning Newsboys are celebrating their signing of an exclusive recording agreement with FairTrade Services. The band is currently in the studio working on their highly anticipated FairTrade Services debut, slated to release next March.
"It's great to be reunited with Wes Campbell and the Newsboys again," said Jeff Moseley, president/founder, FairTrade Services. "Our association goes back a long way and I am excited to be working alongside this iconic band and team again. The music is fantastic and we are working diligently on a promotion plan that will match the outstanding music."
"The Newsboys have had a long relationship with Jeff Moseley and his team," said Wes Campbell, president/founder, First Company Management. "FairTrade's commitment to the artist, their passion for helping challenge artists' musical talents and creativity, and their out-of-the-box marketing and distribution concepts are exciting to us, and we look forward to continuing to push the envelope together for many years to come."
For several decades the Newsboys have helped define the sound of Christian music, while their live performances continue to sell out venues across the country. Comprised of lead vocalist Michael Tait, Jody Davis (guitar), Jeff Frankenstein (keys) and Duncan Phillips (drums), Newsboys have sold more than 8 million units, amassing eight Gold® certifications, 33 #1 radio hits, four GRAMMY® nominations and multiple Dove Awards. "God's Not Dead," Newsboys' chart-topping, Platinum®-certified single, inspired Pure Flix's 2014 hit film of the same name. Their "We Believe…God's Not Dead" 2015 Fall Tour will travel to more than 40 markets across the country, beginning September 18.
Source:
Turning Point Media Relations