August 01, 2011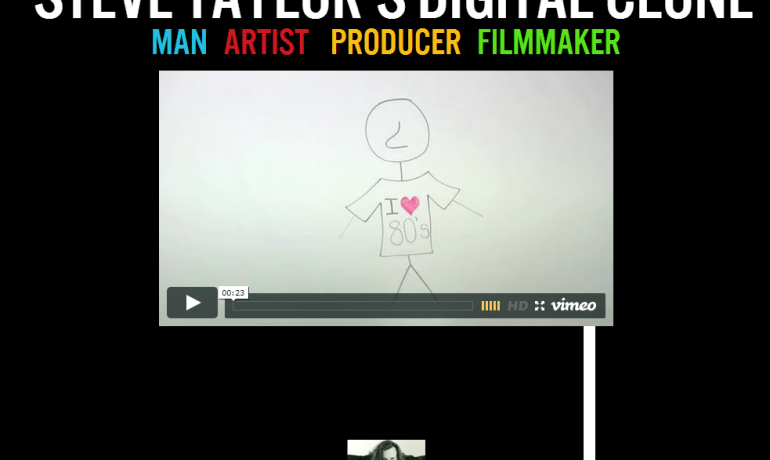 NEWBERG, OR: Steve Taylor's Digital Clone is breaking new ground in the art of documentary storytelling. The website highlights the career of the 80's Christian musician Steve Taylor. Professor of Cinema and Media Communication at George Fox University, Sarah Gibson, directed and produced the iPad compatible site. The project, tobeaclone.com, places the audience in the drivers seat allowing them to control, explore, and interact with a wealth of material, most of which has never been seen.
The project features hours of interviews from Christian music industry leaders, journalists, and musicians. It chronicles Steve Taylor as a man, artist, producer, and filmmaker. The site, made possible by a grant from George Fox University, highlights material originally gathered for the traditional documentary, Steve Taylor is Not Dead. Gibson set out to create a companion to the film while experimenting with a new form of storytelling. Interactive documentaries are currently very rare with notable projects being produced by the National Film Board of Canada and the Australian Broadcasting Corporation.
Gibson began working on the project in May 2011 alongside four George Fox University students. The team immediately engaged Steve Taylor fans via Twitter, Facebook, and Tumblr. The project is slated to be an ever-evolving site with new content to be added over the next several months. This fall Lipscomb University will host the Nashville premiere of the traditional documentary, Steve Taylor is Not Dead, as a part of the HumanDocs Film Series, sponsored by the College of Arts and Sciences.
ABOUT STEVE TAYLOR: In 1983 Steve Taylor began his career as a solo artist armed with his faith and satirical lyrics. His first big hit was "I Want To Be A Clone." His music career was both successful and controversial leading to his retirement in 1987.
In 1991, he joined a rock band called Chagall Guevara. They only made one album. He returned in 1993 to release one more solo album before moving into producing other artists. The Newsboys, Sixpence None the Richer, and Guardian have all worked with Steve. He also has written songs for Veggie Tales.
In the late 90s, he founded the record label Squint. Squint signed bands such as LA Symphony, Burlap To Cashmere, Chevelle, Waterdeep, The Insyderz, and Sixpence None The Richer. In 2003, Steve transitioned to filmmaking and will soon be releasing his second feature film, Blue Like Jazz.