October 22, 2012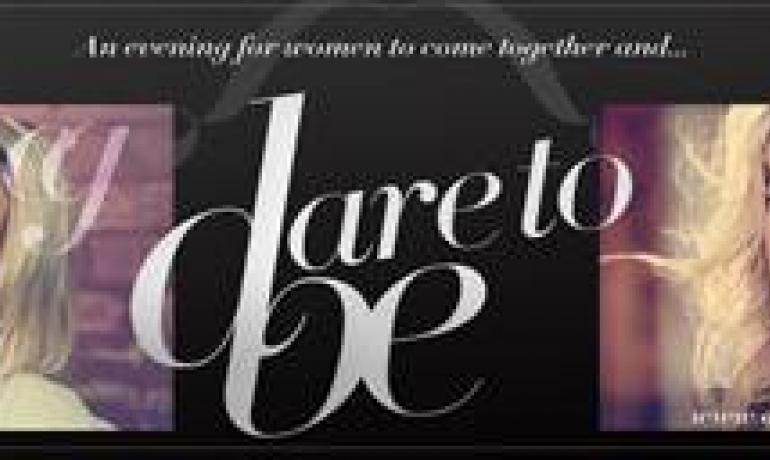 Los Angeles, Calif. – Earlier this year thousands of women around the world voiced their excitement about the Dare to Be women's event. Now, Grammy nominated vocalist Natalie Grant and international speaker Charlotte Gambill are gearing up for the second annual Dare to Be event tour set to launch January 10, 2013.
Sponsored by World Vision and Regent University, the multi-city event tour kicks off in Nashville, Tenn. and will visit major markets including Baltimore, Columbus, Sacramento, Cleveland, Seattle and Portland.
With the purpose to inspire women from all walks of life to step out of their comfort zone and realize their God given potential, Dare to Be is an intimate evening of inspirational music, worship, teaching and fellowship. Grant will perform some of her most popular songs and Gambill will make audiences laugh and cry through her authentic and relevant bible teaching, challenging women to dive into their God designed destiny.
"Dare to Be is not just an event, it is an adventure that we want to invite you to join us on," says Gambill. "We believe that God has purposed so much more for all our lives and often the barrier between that purpose being a dream or a reality is daring to believe it. Over this past year we have seen hope revived, relationships restored and God's girls leaving what's comfortable to become courageous."
Each evening, Gambill and Grant will acknowledge a woman in the local community who has overcome extraordinary circumstances and exemplifies a woman who is "daring to be." Despite the challenges that life can bring, Grant and Gambill want to show the powerful impact and importance of sisters honoring sisters.
Grant says, "Each evening is an opportunity to build someone up. We get to take a moment to love on each other and it's amazing to see what happens when we simply say 'We see you. We recognize you. You are important and are making a difference in this community by your example.' We've seen countless women restored by this simple act of fellowship alone."
The upcoming events will engage radio and social media to encourage community leaders to share the stories of those who are making a difference in their own congregations, whom they feel should be honored at their local Dare to Be event.
More information on story submissions can be found at www.daretoberevolution.com.
Earlier this year, Dare to Be visited a select number of markets and impacted thousands. Women are still sharing about the impression the event made on their lives:
"It's 5 months later and I continue to hear stories of life change. Natalie Grant & Charlotte Gambill are the real deal! Run, don't walk to get your tickets," said Libba Tullos, Women's Pastor at Hope Fellowship in Frisco, TX. "This event challenged women to dare greatly to be all that God has created them to be. It dared women to step outside of their comfort zones, to trust God and to do all that He has called them to do. This event dared women to stretch farther, go higher, and dig deeper with God than they ever have before," said former attendee.
In the early stages of their friendship, Grant and Gambill ministered together on several occasions in the UK and USA. Complete strangers at first, God instantly knit their lives together. Now seven year later, they are closer friends and are excited to be walking out a purpose that God united them for.
Grant continues to gain international acclaim for her music, garnering countless awards, selling over a million albums, and performing in front of sold out crowds across the country. Founder of Abolition International, a non-profit origination that works towards abolishing human trafficking, Grant uses her platform to bring a voice to the voiceless. Gambill is an international speaker and author, best known for her practical and passionate application of God's word. Her messages of life and purpose are rallying a generation to embrace the broken and become ambassadors of hope.
For more information about Dare to Be events and to purchase tickets, please visit http://daretoberevolution.com/.