March 31, 2016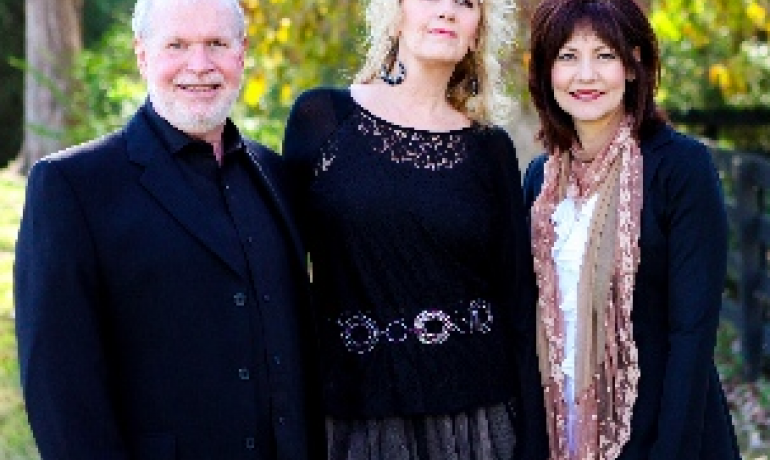 NASHVILLE, Tenn. --- Original members of the Grammy nominated, multi-Dove Award winning contemporary Christian music vocal band First Call recently attended the 2016 National Religious Broadcasters (NRB) Proclaim 16 International Christian Media Convention, which was held Feb. 23-26 at the Gaylord Opryland Resort and Convention Center in Nashville, TN. During the event, they met with media and industry leaders to discuss the band's remarkable, three-decade career, and their upcoming project, the EP, Second Birth.
Melodie Tunney and Bonnie Keen, two of the founding members of the popular vocal band, were kept busy during the 4-day event, being interviewed by such influential outlets as CRU/Campus Crusade for Christ,The Meeting House/Faith Broadcasting,Body Builders TV, Faith Flix, The Shaun Tabatt Show, and more.
The two singers also did a live interview with Bill Martinez Live! What they didn't know was that their publicist had worked out a special surprise--Marty McCall, the third founding member of First Call, who was not able to attend the conference, was on the phone and did the interview with them.
"Bonnie and I enjoyed the opportunity to be at NRB, but we missed having Marty with us," says Tunney. "When we heard his voice on the phone for the interview, we were so excited! That was one of the highlights of the event!"
When Tunney, Keen and McCall first met in the mid 1980s, they were considered the "first call" background vocalists and commercial jingle singers by studio producers in Nashville, Tennessee. Initially intent on staying behind the scenes, the trio's pristine vocals couldn't be contained in the background, and they soon found themselves thrust to the forefront of the burgeoning contemporary Christian music scene.
In the nearly 30 years since their first meeting, First Call has recorded 13 projects with Word Records and Warner Alliance, earned three Dove awards, been nominated for five Grammy awards, and toured nationally and internationally. Audiences hungry for their three-part vocal harmonies clamored for more as they sang about their faith with an unmistakable sound on songs like "Undivided," "The Reason We Sing," "O Sifuni Mungu," "Sweet Love" and "Sacred Journey."
A theme of unexpected grace and unforeseen opportunities emerged to underscore the trio's collaborative journey as First Call. Their journey involved changes, challenges, and the ups and downs that come with any recording career, including changes in the group's members. One thing that never changed was the strong and abiding friendship between the original three members.
Individually, Tunney, Keen and McCall have recorded solo projects, published books, acted on stage and screen, toured and used a variety of artistic mediums to convey the gospel. In January 2015, the original members of First Call were invited to participate in a new DVD project, We Will Stand. The live DVD taping, which became one of the major industry events of the year, featured 33 prominent CCM artists who gathered to pay tribute to songs that live far past careers. That evening, the trio revisited the power of singing with artists they'd recorded with, and shared tour bus adventures, lives of joy and sorrow and a rich history of receiving God's grace.
The We Will Stand concert DVD continues to air internationally on a variety of television networks, and the response from fans from around the world has been nothing less than astonishing to the trio. The outpouring of excitement was so intense that it sparked First Call to go back into the studio to record a new 6 song EP, Second Birth.
"This EP was recorded as an act of joy. It was so great to sing together again," says Keen.
As this next chapter in their musical journey continues into 2016, these three friends are open to whatever God has in store during this new season. And whatever that may look like, Tunney, Keen and McCall are grateful to experience a second birth of First Call.
Source:
McCain & Co. Public Relations