November 08, 2019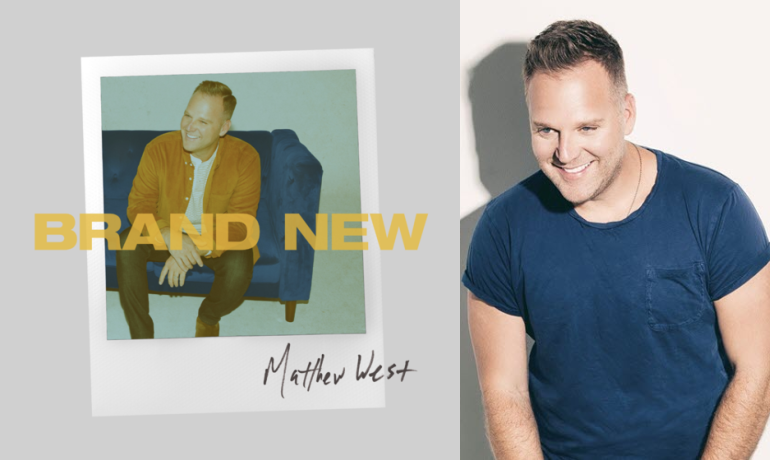 Multi-Award Winning singer/songwriter Matthew West will release his new project, Brand New, on February 14, 2020 as his first album on Provident Label Group/Sony Music and his imprint Story House Music. Today the pre-order for Brand New is available.
"The title Brand New does represent where I find myself these days," explains Matthew West about the upcoming release. "Signing with a new label, starting my own management company, building a new songwriting house and studio called The Story House, and with that, a flood of new songs. But the title really has an even deeper meaning than just a representation of where I'm at in my career. Brand New is actually inspired by the idea of looking back, or what's more, going back. In many ways, this is an album about returning to the days when I was a new Christian, and my faith felt fresh and alive."
The album cover features an old polaroid picture of Matthew West sitting on a blue couch, which has significant meaning to him, as well as to the overarching theme of the project.
"I was 13 years old, sitting on a blue couch in my childhood home when I stumbled across a Billy Graham crusade on television, and my life changed," he shares. "For the first time, something clicked. I realized what my parents had been teaching me was true: that God desired a personal relationship with me. I remember my heart pounding as I heard Billy Graham inviting a stadium full of people to find freedom in God's love and forgiveness. I prayed that day with my mom and gave my life to Christ."
With Brand New, West has written a collection of songs that were inspired by him wanting to get back to that closeness he felt when he was young in his faith with God.
"I feel like God helps me go back to that blue couch moment in my mind and my heart returns to this powerful reminder: God is just as real to me now as He was back then. God still loves me today just as much as He did back then. God still has plans for my life. He still forgives me. He still calls me His child. He's still working on me. And I'm still a new creation in His eyes."
In addition to sharing his own story on this album, West also shines a light on stories and testimonies of other people's lives that have been shared with him, something he has continued to do throughout his career. On Brand New - two tracks that were inspired by others' stories include "Walking Miracles," and "Too Young Too Soon," which touches on the difficult subject of teen suicide. Leading up to the February 2020 release, West has released multiple songs from the upcoming project including the radio single, "The God Who Stays," as well as "What If," and "Truth Be Told."
Closing out this year, West will be celebrating the holiday season headlining the K-LOVE Christmas Tour.