May 06, 2014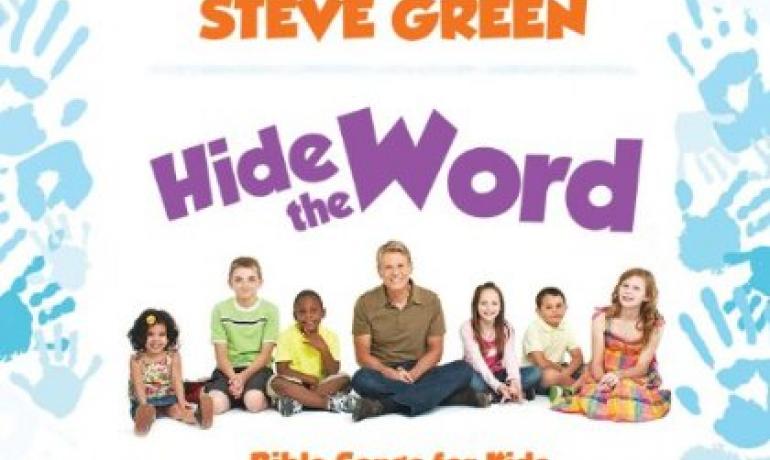 NASHVILLE, Tenn. - Steve Green Ministries has announced the release of Hide The Word: Bible Songs for Kids, the latest children's music project from multiple Grammy Award-nominated and Dove Award-winning CCM recording artist Steve Green.
 
Hide The Word, the recording artist's ninth kids project, is aimed at bringing Scripture into children's lives through music. The new project is designed to help make memorizing God's Word a part of everyday life.
 
Green wrote the music and adapted the Bible verses for all 15 tracks on Hide The Word, using some of the Bible's mostprecious promises, including John 3:16-17 ("For God so loved the world...."), Psalm 119:105 ("Thy word is a lamp unto my feet...."), John 14:6 ("I am the way, the truth and the life...."), Matthew 11:28-29a ("Come to me all you are weary and burdened and I will give you rest...."), and Psalm 23:1-3 ("The Lord is my shepherd...."). Steve Green and his brother and manager, David Green, served as Executive Producers, with Dick Tunney as Producer.
In addition to featuring Green on lead vocals, the CD also features a children's choir with individual kids quoting the verses. Green's granddaughter, Addy, made her recording debut on the project as well. 
"There is nothing more powerful or lasting than God's Word!" says Green. "In the Scriptures, God has told us all we need to know for life and godliness. These Bible Promises set to music remind us who God is and what He has done for us. What's more, the songs are just plain fun!" 
Green, whose breakout 1985 album He Holds The Key, earned the vocalist that year's Dove Award for Male Vocalist of Year, began releasing children's recordings simultaneously with his CCM projects with Hide 'Em In Your Heart Worship in 1998 and Hide 'Em In Your Heart: Bible Memory Melodies, Vol. 1 and Vol. 2 in 2003.  Among his children's projects are three volumes of The Adventures of Prayer Bear, released on VHS by Capitol Christian Music Group.
Source:
McCain & Co Public Relations