October 12, 2016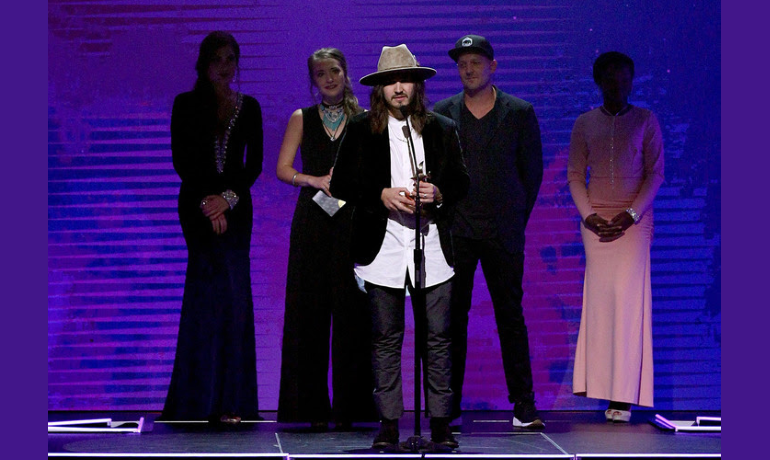 Nashville, Tennessee: It was an exciting night at the 47th annual Dove Awards for Jordan Feliz, as he was honored with the trophy for New Artist of the Year. The moment was made even more special when the audience erupted with applause and a standing ovation when his name was announced. It was also touching when Lauren Daigle, last year's New Artist of the Year winner, gave the award to her labelmate. Music fans will be able to view the entire Dove Awards program when it airs on the Trinity Broadcasting Network (TBN) on Sunday, Oct. 16 at 7 p.m. PST.
"I am so honored and humbled by the Dove Award for New Artist of the Year!, Feliz said. "It was a shock when I heard my name announced, but so grateful for the support of the fans and industry. I'm also so excited to be a small part in what the Lord is doing in the Christian music community."
"It was so amazing to hear Jordan's name called out for New Artist of the Year, especially to have Lauren present it to him. Honestly, it made me tear up a bit," adds Steve Ford, General Manager, Centricity Music. "Jordan has worked so hard over the last two years, from his intensive touring schedule to his radio success, where he has given 110%. I am so proud of him."
Feliz has experienced an incredible fast rise with his career since first signing with Centricity Music in 2015. His debut EP, Beloved, resulted in a mega-hit single for "The River" that remained No. 1 for 10 weeks on Billboard's Christian Airplay Chart and seven weeks on the CHR/Hot AC chart. It remains in the Top 30 on iTunes Christian Singles chart.
In April 2016, Feliz released his first full album, The River, which debuted No. 4 on Billboard's Christian Albums chart. The project also garnered Feliz his second No. 1 single, "Never Too Far Gone," at Hot AC/CHR radio and Top 10 at Christian Airplay. The album received glowing reviews with CBN.org saying, "…the California born and bred singer/songwriter is making his mark in Christian music."
Feliz's newest single, "Best Of Me," already has 95% of the Hot AC/CHR radio stations, which includes Air1, playing the song. This comes after the single was serviced to Christian radio only three weeks ago.