May 04, 2016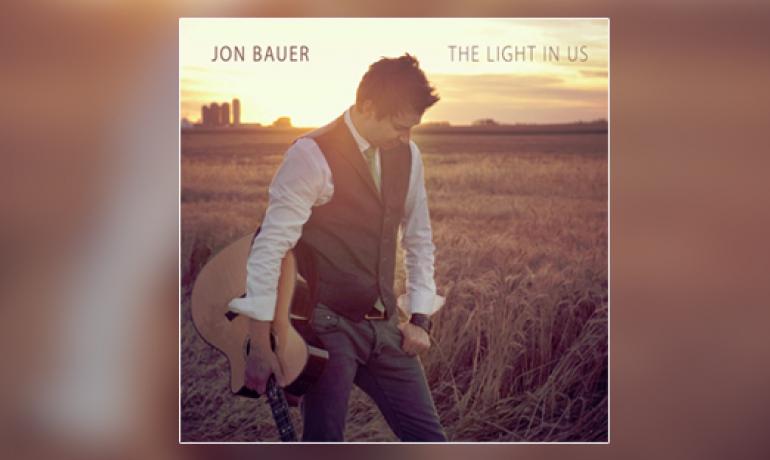 The Light In Us, the highly anticipated seventh studio recording from JUNO® Award-nominated and multi Covenant Award-winning worship artist and singer/songwriter Jon Bauer, is set to bow June 10 at iTunes, Apple Music and Google Play. Produced by GRAMMY®-nominated, Dove Award-winner Rusty Varenkamp (Building 429, Meredith Andrews) and mixed by GRAMMY® and Dove Award-winner Ainslie Grosser (Rend Collective, Casting Crowns), the project features 10 selections, all co-penned by Bauer.
Chronicling a season of healing and restoration, highlights of The Light In Us-which features pop, modern worship and country influences-include the worshipful, upbeat opener, "Your Love Is Beautiful"; "Come Alive," a reflective declaration of God's faithfulness and sustainment; and the pop-driven plea to hear His voice on "Say Something."
"Life with Jesus is a journey," Bauer shares of the project's overarching theme. "The Lord never promised it would be easy, but worth it if we trust in Him. This album shares a healing journey I have been on the last couple of years as I have leaned on the faithfulness of God even when I have not felt Him near. In His time-not my own-He has brought complete healing and has used the trials of this life as a testament to His greatness. My prayer is that these songs would draw others who are walking through a valley to press in even closer to Jesus."
With seven GMA Canada Covenant Awards and a JUNO® Award nomination to his credit, acclaimed singer/songwriter and sought-after worship leader Jon Bauer engages audiences throughout the United States, Canada, Europe and Asia each year and has toured with such artists as Newsboys, Michael W. Smith, Steven Curtis Chapman, Francesca Battistelli and Sanctus Real, among others. Bauer's 20-year career is highlighted by 12 Canadian Christian radio hits, encompassing a #1 song and six Top 5 singles. His music has also been featured on multiple compilations, including various Hosanna/Integrity releases, as well as Chris Tomlin's FQWorship.com. An artist in residence at St. Albert Alliance Church, Bauer and his wife Andrea reside in Alberta, Canada, with their two children.
Source:
Turning Point Media Relations