January 15, 2020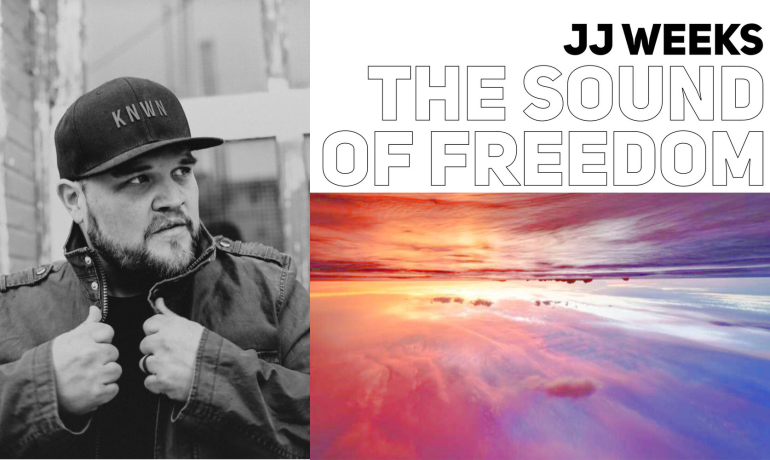 Renowned, Macon, GA-based singer-songwriter JJ Weeks will release his first EP since signing his exclusive agreement as a solo artist with Radiate Music. The six-song recording, The Sound Of Freedom, is available to pre-save/add/order now on Spotify, Apple Music and iTunes from https://ffm.to/jjweekssof and will hit more digital retail and streaming outlets globally from Radiate Music Feb. 7. The title track is also being heard now at radio outlets nationally.
Known for writing and leading hit-making songs like "Let Them See You," "Alive In Me," "What Kind Of Love" and "Do Not Be Afraid," the new EP features Weeks' most recent radio singles "Choices," "Days Like These" and "The Sound of Freedom."
"Freedom comes out differently for everyone, but it is unmistakable when every chain hits the floor," says Weeks. "Imagine standing guilty in front of judge and jury and your sins, condemnation, temptations, hopelessness, depression, not feeling like you're enough, fear and whatever you may be dealing with is all laid out for everyone to see. Then, with one word coming from the corner of the room, it all vanishes because the King says, 'That's my child.' That's the freedom I'm talking about in this song!"
Co-written and produced by GRAMMY-nominated, two-time Dove Award-winning "Producer of the Year" Ian Eskelin, the single is already being heard on stations like KYCC (Stockton, CA), WNFR (Flint, MI), WLJN (Traverse City, MI), WCTL (Erie, PA), KCVO (Columbia, MO) and WJTL (Lancaster, PA).
Taking the hopeful and encouraging messages of his new music and fan favorites on the road, Weeks is featured on the Winter Jam Tour Spectacular, Christian music's largest annual tour that hits top venues in 42 cities around the country before concluding March 29 at the Wolstein Center in Cleveland.​
In addition to performing on the Winter Jam stage, Weeks is representing Holt International, sharing the mission and vision of this leading adoption agency. Following his presentation during the opening weekend of the tour, Winter Jam attendees sponsored 600 children through the agency.
Holt International is dedicated to carrying out God's plan for every child to have a permanent, loving home through family preservation, in-country adoption, and international adoption.
"We are very excited to have JJ Weeks representing Holt International at Winter Jam this year," said Eric Mason, Chief Development and Marketing Officer at Holt International. "On a recent trip to Mongolia, we had the chance to witness JJ's heart and compassion for children and families in need, and we feel very blessed to have JJ advocating on behalf of orphaned and vulnerable children during this year's concert series."
Playing 100 to 150 concerts coast-to-coast each year, Weeks has also toured with MercyMe, Casting Crowns, Unspoken, We Are Messenger and many more.
​