September 29, 2016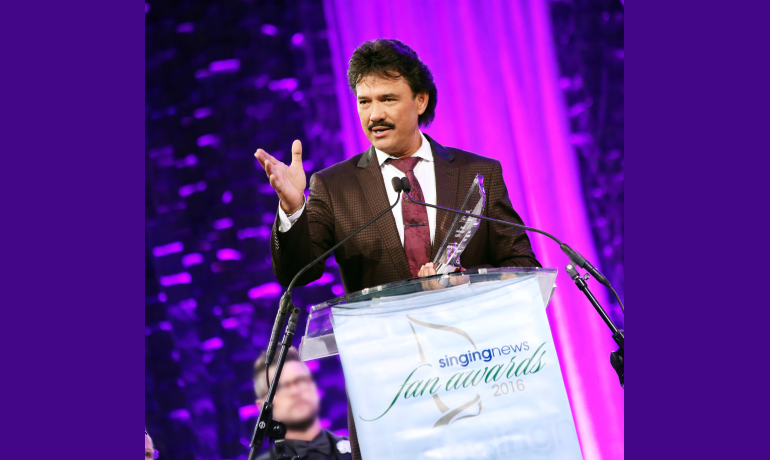 NASHVILLE, Tenn.: Difference Media recording artist Ivan Parker was named Favorite Soloist at the 2016 Singing News Fan Awards, held this week during NQC (National Quartet Convention) in Pigeon Forge, Tennessee. Marking his 14th Favorite Soloist honor, Parker has received a total of 32 Singing News Fan Awards during his acclaimed three-decade career.
Parker's 16th solo recording, Dancing In The Rain, released in July and heralded his debut on the Difference Media label. Produced by Garry Jones, the critically acclaimed album features the current single, "Mama's Rocking Chair" (feat. Sandy Parker), and "Walk My Way" (feat. Canton Junction).
Ivan Parker has been one of Southern Gospel's most lauded vocalists for more than three decades. He was lead singer for the Dove Award-winning quartet Gold City from 1983–1993 during which time he recorded his signature song, "Midnight Cry." As a solo artist, he has released 16 recordings and five DVDs, along with being featured in 32 best-selling Gaither Homecoming videos. His #1 Southern Gospel radio singles include "Hit The Ground Running" and "I Choose."
Difference Media is a division of John Hagee Ministries, founded by John Hagee. In addition to Parker, the San Antonio-based label features some of the leading names in Gospel music, including Canton Junction, Ricardo Sanchez, Matthew Hagee, Tim Duncan, Aaron & Amanda Crabb, The Cornerstone Sanctuary Choir, John Hagee and The Hagees.
Source:
Turning Point Media Relations