March 18, 2014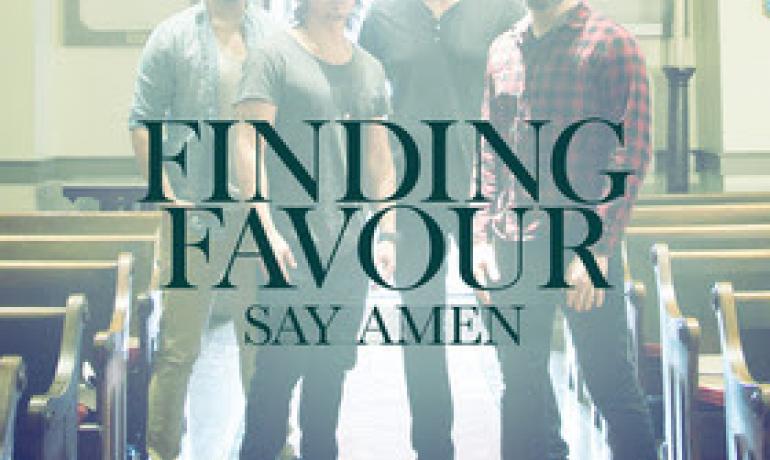 NASHVILLE, TENN. – Gotee Records' Finding Favour has released a brand new single, "Say Amen," available now at iTunes, Amazon MP3 and Spotify. The third single released by Finding Favour is already resonating with radio as Air1 stations have added the song out of the gate. The band is also debuting a music video today exclusively on Air1.com
"Say Amen is a reminder of God's undying faithfulness," shares vocalist Blake Neesmith. "He'll never leave us! He'll never forsake us! So let us take the good and the bad and remember that God has a purpose and a plan. In the fire, in the storms, or even in the calm we can stand and Say Amen!"
With soul-shaking anthems and impactful lyrics, Finding Favour continues to deliver songs that reflect the moving stories that inspire their music and showcase the band's considerable talent and musical mission. In 2013, the band released their self-titled EP to much praise. This EP produced two singles that have paved the way for "Say Amen." Their debut single " Slip On By" charted in the Top 20 at Christian AC radio in addition to being re-cut by country artist Austin Webb, which became a Top 40 country radio hit. The following single " Shake the World" went on to chart in the Top 30 at Christian AC as well as Top 15 on CHR radio.
Fans have had the opportunity to get to know this budding foursome act on major tours across the U.S. with Building 429 and Rhett Walker Band followed by the "United We Stand" fall tour with Building 429, The Afters and Hawk Nelson tour. Finding Favour is currently on the road with the "Change a Life Tour" with Audio Adrenaline and Kutless. Remaining tour dates listed below.
Hailing from south Georgia, Finding Favour is Blake Neesmith (lead vocals, guitar), Allen Dukes (guitar, vocals), Dustin Daniels (bass, vocals), Josh Duckworth (drums).